One-third of the NBA season to go, and 10 things to think about:
1. The new NBA All-Star Game
With Sunday's All-Star Game tied at 146, Kyle Lowry ran a pick-and-roll with Giannis Antetokounmpo, drawing a switch of Chris Paul onto the MVP. As Antetokounmpo burrowed into position for an entry pass at the foul line, James Harden shot up from the left corner to rescue Paul from the Antetokounmpo matchup. They executed that switch before Lowry even picked up his dribble.
It was real basketball — calculated and predatory, the kind real teams play in real games. That it involved the best players made it even more delicious. How do run-of-the-mill actions flow when every player — even the dudes chilling in the corners — is freaking awesome? Who handles the ball? Who gets targeted as the weakest defensive link?
Lowry took multiple charges! LeBron James and Antetokounmpo enveloped each other. Team Giannis ran much of its late-game offense through Joel Embiid, and wow was that juicy: When it had to manufacture points against five elite defenders, the team decided — organically, in the moment — that a post-up behemoth (and not, you know, Giannis) represented its best hope.
Paul and Lowry — backups Sunday — finishing the game said something about what their coaches and peers value amid the highest possible competition: toughness, sacrifice, smarts. You don't have to reserve any brain space worrying about Paul and Lowry making mistakes.
The Elam Ending, and the absence of a ticking clock, created the atmosphere of a race someone had to win.
The quirks added intrigue. Ahead and three points from the target score, Team LeBron scrapped its offense to hunt 3s. Would that backfire? LeBron clanked a triple from two steps inside midcourt. Every living being — plants, animals, humans — knew Harden would hurl a step-back on Team LeBron's next possession; Lowry knew, too, and drew a charge.
LeBron finally accepted an uncontested dunk to get to within a point of victory. Was that the right move? It appeared so when Anthony Davis won the game on a free throw.
Elam skeptics worried too many games would end on foul shots. The process leading to Davis' free throw — the strategic uncertainties, the feeling you were watching something new and maybe awesome — imbued the free throw with excitement. Imagine if he had missed both?
Some commentators were disappointed the game finished on a non-shooting foul. In some cases that might leave a sour taste, though it's not a big or unsolvable problem. This wasn't such a case. Lowry dragged Davis down as LeBron's entry pass was in midair. Without that foul, Davis catches and scores in one motion. Lowry's hack was about as close to in-the-act as a non-shooting foul can get.
It won't be like this every time. Blowouts are boring no matter how you end the game. The novelty will wear off.
But I thought the Elam Ending was worth trying at lower levels when I first wrote about it three years ago. League officials told me then the idea was too "aggressive" for the G League, and they still don't seem interested in adopting it there beyond maybe someday using it at the G League showcase. Why? What exactly do they have to lose?
League officials argue it is dangerous to differentiate the G League too much from the NBA. That is not persuasive. The NBA has already introduced several key rules-based differences between the leagues. Crunch time under the Elam Ending is still basketball. G Leaguers are not going to forget how a clock works.
Having every quarter Sunday count as a standalone game for charity was a hit, too. If the first two had been close, the last few minutes of each would have been as competitive as the end of the third.
2. All-Star Chris Paul
Paul's perfectionism and obsessive competitiveness can make him a killjoy. I mean, he tattled on Jordan Bell for entering a game with his jersey untucked. A Paul team in the bonus is borderline unwatchable, unless you love rip-through moves.
That ruthlessness augments the Point God character — the maniacal genius in winter chasing every edge. That image of an aging, implacable Paul outwitting opponents has started to obscure how dynamic Prime CP3 was in the most visceral senses: a blur who could explode to the rim and absolutely humiliate people.
Paul summons that spirit in All-Star games. The league's ultimate curmudgeon becomes a showman again, without dialing back his drive to win. He clowns people with pitter-pat dribble moves. He hunts fancy assists; lob him the ball, and Paul will search in midair (mind you!) for a second lob — the rare double-lob. (He might also just dunk, as he did in one of Sunday's best moments.)
I love this Paul — love being reminded of the monster athlete undergirding the classic pick-and-roll maestro.
Smith was a worthy reclamation project when New York acquired him as one of the centerpieces — and that's how they conceived of Smith then — in The Trade That Shall Not Be Named.
Smith has lost touch with his game in New York. It's as if he contracted whatever Markelle Fultz had, only it spread to Smith's spatial awareness. I cannot recall a nominal point guard bonking transition chances so often, in every possible way: missing teammates running the wing; dribbling ahead of the action; failing to anticipate open trailers; forgetting defenders exist behind and around him.
Someone should have alerted Smith to Troy Brown Jr.'s presence, but Smith's dribble is high and oblivious.
Smith bounds along a path there that doesn't pry open any passing lane. He doesn't appear aware of Kevin Knox II trailing.
Things haven't been any better in the half court, minus the occasional glimpse of lob chemistry with Mitchell Robinson. Smith is shooting 29% on 3s and 36% on 2s, and sports the league's third-highest turnover rate.
Related: Who is New York's starting point guard next season? The Knicks are going nowhere until they have a reasonable answer. And, no, Frank Ntilikina has not looked ready for that role.
4. Landry Shamet, growing a midrange game
Shamet's shot distribution hasn't changed much, but the eye test over the past month reveals a player growing more confident exploring the midrange.
This, from just before the All-Star break, is a handy backend option on one set intended to spring Kawhi Leonard:
Shamet has even run a few smooth pick-and-rolls, and pulled long 2s against drop-back defenses:
Life gets harder in the playoffs for long-range specialists. Defenses dial in on cute off-ball actions that work in the regular season. The long 2 isn't a sexy shot, but it is a playoff shot.
Shamet is shooting 72% in the restricted area, up from 55% last season. The sample sizes are tiny, but Shamet is finishing with more oomph; last month in New Orleans, he drew Jaxson Hayes on a switch, roasted Hayes baseline, and whipped out a nifty up-and-under.
Shamet rounding out his game gives the Clippers more flexibility around the three set-in-stone members of their crunch-time five: Leonard, Paul George, and Montrezl Harrell. (If the Clippers draw the Rockets, I could see LA playing stretches without a center — matching Houston's super-small alignment. With Marcus Morris Sr. aboard, the Clippers are equipped to beat Houston at its own game.)
Shamet is rangier and more reliable on defense than Lou Williams and the newly acquired Reggie Jackson, and he doesn't need the ball. He's a much more dangerous shooter than Patrick Beverley.
Doc Rivers' crunch-time lineups will feature at most two of those four guards, and often just one. Depending on time, score, and other variables, Shamet might be the right answer here and there. He has won a place in that conversation.
5. Reggie Jackson's defense
One of the big debates within the league is whether the Clippers need a traditional floor general to help their offense coalesce. Jackson in theory replicates Williams' ballhandling while providing more defense than Williams or Shamet — and perhaps more reliable long-range shooting than Beverley.
The real Jackson — at least the one who lived through four-plus seasons of Detroit Pistons purgatory — is a different story. Jackson regressed on defense in Detroit. He had trouble avoiding screens on and off the ball:
Dynamic guards didn't even need a screen to burn him:
Perhaps better health and joining a contender will invigorate Jackson. The Jackson of recent vintage is a slight upgrade on defense over Williams, but not nearly enough to justify stealing real playing time from him — let alone taking the ball from George or Leonard. Shamet has been better than Jackson on defense, and is in a different universe as a spot-up threat. Jackson is roughly equivalent to Beverley in that regard, but Beverley is obviously the far superior defender.
Jackson is a buzzy name by buyout standards, but barring some unexpected improvement, it's hard to see him playing a real role.
6. Trae Young, begging for fouls
I like Trae Young fine. I put him on my All-Star roster even though he plays zero defense and his team is terrible. The idea that Young passes only to record assists — not totally off-base, but a bit overblown — has seeped into NBA discourse to the point that he is on the verge of being criminally underrated as a passer. His shooting bends defenses; the Hawks have been a legitimately good offensive team with Young on the floor — no easy feat given injuries, inexperience, and John Collins' suspension. Young eviscerated Miami Thursday with a 50-spot.
Just stop dry-heaving in search of 3-shot fouls, please.
You know whom I miss even more in the face of such blasphemy? Klay Thompson. One of the half-dozen greatest shooters ever flat refuses to chase fouls, even when he pump-fakes defenders out of their shoes and his coaches beg him to lean into contact. Thompson is a man of honor. The basketball gods shall reward him upon his return.
Craig does all the dirty work. He can defend four positions, and works like hell on the glass — on both ends of the floor.
Half-ass it with some flat-footed faux box-out, and Craig will zip around you for offensive rebounds:
He is liable to fly in from beyond the arc if he sees a crease. Craig snags many more offensive rebounds than expected based on his positioning when shots go up, per Second Spectrum data.
Craig has filled in as a starter in 15 of Denver's past 16 games, and the Nuggets are 11-5 in that stretch. He started Denver's final 11 playoff games last season, and his defense on Damian Lillard was a key factor in the Nuggets stretching their second-round series against Portland to seven games.
Craig hit 17-of-36 (47%) from deep in those playoffs, way above his career mark of 32%. Shooting holds Craig back. Opponents ignore him to muck up Denver's spacing; its offense is worse with Craig on the floor.
But the postseason is a small sample size. A few more makes than usual, and Craig becomes a net plus. He looms as a potentially important role player against the biggest and strongest wings in the West: Leonard, George, LeBron, maybe Harden. The Gary Harris–Will Barton duo is undersized against that type. Harris has struggled horribly on offense.
The Nuggets have sometimes used Jerami Grant on Leonard and James, even if it requires playing Grant, Paul Millsap, and Nikola Jokic together. Denver could also try Michael Porter Jr.; he's shooting 43% from deep, and is big enough to jostle with physical wings — or opposing power forwards if Michael Malone prefers Millsap or Grant guarding LeBron/Kawhi types.
Porter has logged only 556 career minutes. Will Malone trust Porter's defense in the playoffs?
He trusts Craig, perhaps more than he should given Craig's limitations as a shooter. But Craig has earned that trust, and he might get his chance at some key postseason moments.
8. Brooklyn's one-pass possessions
Only three teams — the Clippers, Rockets, and Blazers — attempt more shots than Brooklyn after no passes or one pass, and the Nets have the league's worst effective field goal percentage on such shots, per Second Spectrum.
The Rockets and Blazers have a track record of playing this way. The Clippers acquired one of the league's best one-on-one players in Leonard. Brooklyn exchanged one ball-dominant point guard (D'Angelo Russell) for another (Kyrie Irving, now out for the season) and fell from eighth to 26th in passes per game. (The Nets ranked third two seasons ago.)
Passing does not on its own cause good offense; failing to pass does not cause bad offense. But Brooklyn's year-over-year passing stats suggest Kenny Atkinson does not want to play this way. Something isn't clicking. The Nets rank 22nd in points per possession.
The broad numbers suggest you can't blame Irving. Brooklyn scored 112.7 points per 100 possessions when he was on the floor, and 104.7 otherwise. Their passing frequency barely ticks up without him. Spencer Dinwiddie and Caris LeVert pound the ball, too.
Irving, Dinwiddie, and LeVert will end this season having logged only 67 minutes together over 15 games. Even if you understand all the context, that number is stunning.
They don't seem to amplify one another. It was rare for all three to play well in the same game. Dinwiddie and LeVert are below-average 3-point shooters for their careers; they might not draw enough attention to let Irving do his thing in open space.
I also wonder if the cumulation of possessions like this creates some unquantifiable drag:
That is purposeful by Irving's standards. He loves to dance with the ball. He leads the league in drawing "ooooohs" from the crowd with magical dribble moves, and then missing. We need a name for that. It is a very specific thing that elicits a specific crowd noise: higher-pitched anticipatory "ooooohs," followed by a resigned collective groan.
Maybe it was hard for the other Nets to snap into a rhythm when Irving hit the bench.
Lillard gets zero flak for no-pass possessions. He is regarded as one of the best leaders in sports. He is one of the best leaders in sports. We never hear about locker-room dysfunction in Portland.
Lillard also shoots way more 3s and free throws than Irving. Those marginal advantages add up to a lot over one full game.
The Nets were 8-12 with Irving, and are 17-17 without him, and it will be fascinating to monitor their record the rest of this season. They have (predictably) been stingier on defense without him, though as Kevin Pelton pointed out Thursday, some of that could be the luck of opponents missing open shots with Irving on the bench. Still: The sample size of Irving's teams functioning well in his absence is growing to the point where it cannot be dismissed as empty hot-take ammunition.
Next season, with Kevin Durant back, will be a defining career moment for Irving as he slides into the weird role — the one he should play, provided he can strike the right balance — of star point guard who is also the distant No. 2 option.
In the meantime, the Nets face tough questions about which players fit around the Irving/Durant duo.
One of the subtle things that makes Antetokounmpo such a unique weapon — and the Bucks a nightmare matchup: It is really hard to go small against Milwaukee. Conceding size against Antetokounmpo is a no-go. More opponents go the other way, and slide centers onto him.
That leaves smaller guys on Lopez, and Mike Budenholzer deserves credit in those circumstances for remembering what once made Lopez an All-Star. He lets the big fella mash. Milwaukee has scored 1.14 points per possession anytime Lopez shoots from the post, or passes to a teammate who fires — 10th among 111 guys who have recorded at least 25 post-ups, per Second Spectrum.
Budenholzer also allows Lopez to stretch his off-the-bounce game; Lopez is nimbler than you think attacking closeouts and picking out cutters:
He doesn't need to beat wings off the dribble. He just sort of snowplows them until help swarms. That extra attention opens up offensive rebounding chances:
Last season, the Bucks scored 1.23 points per possession on any shot stemming directly from a Lopez drive — the best mark in the entire stinking league among players who piled up at least 200 drives, per Second Spectrum. He's near the top again.
Lopez has hit just 29.6% from deep, but that hasn't really sapped his overall effectiveness — a tribute to his two-way skill.
10. Two cool uniforms
Red is usually the side dish in Philly, so it's nice to see it take center stage: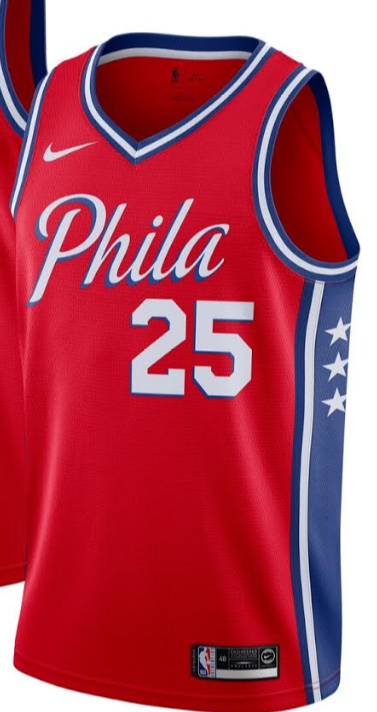 That red is muted and almost soothing against the white and blue. The shadowing of the numbers is subtle, avoiding the cartoonish, blocky look that more garish shadowing can bring. The Wilt-era "PHILA" and cascading stars are always welcome.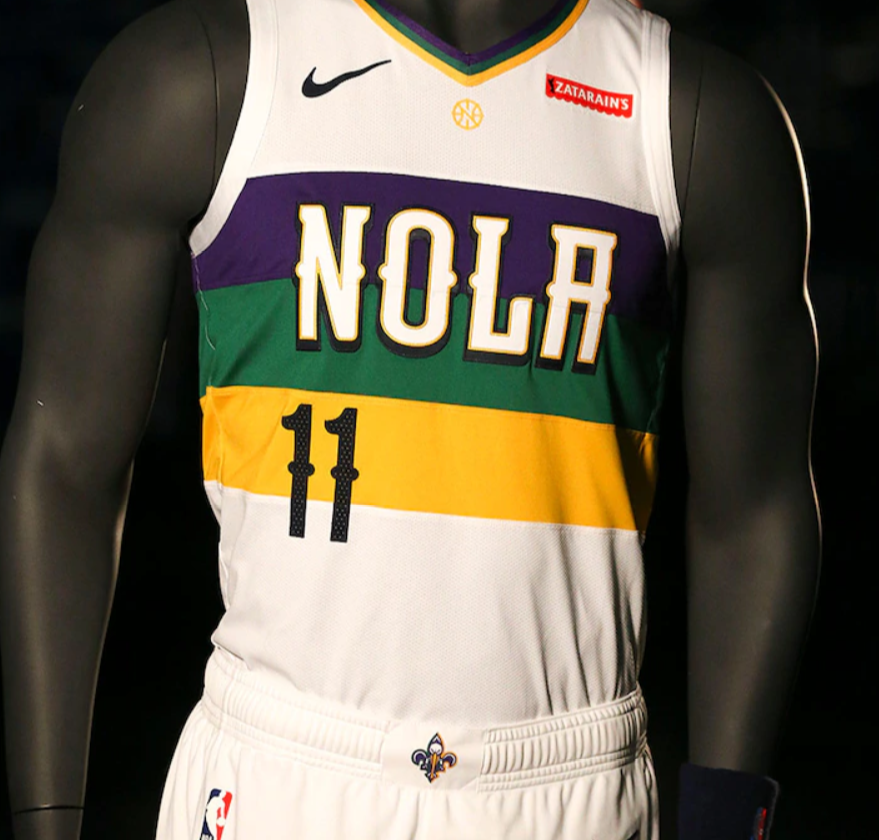 The Pelicans always nail their Mardi Gras duds. They have used bolder base colors, but I might prefer this quieter version. The white lets the triple stripe sing. Four gorgeous touches: the indisputably cool "NOLA" wordmark; off-center numbers; the classic fleur-de-lis logo — pelican head in the middle! — on the belt buckle; and the faux medallion meant to mimic a Mardi Gras krewe ducal.