The NBA comparison game is tricky in any draft. No two players are identical, and it's easy to talk yourself into or out of a prospect just because he reminds you of someone else.
But for a player as unique as Duke's Zion Williamson, comps are even more challenging. Williamson is this year's consensus No. 1 pick, likely headed to the New Orleans Pelicans at the start of the 2019 NBA draft on Thursday (7 p.m. ET on ESPN). There's also a strong case that he's the best college prospect since Anthony Davis.
But Zion still has a few doubters around the league, and those lingering naysayers often pose the question, "Who is he in the NBA?"
We've never seen a prospect quite like Williamson before. In trying to picture what exactly NBA Zion will look like, we need to look at five players instead of one.
Here's how standout aspects of the Duke phenom's game compare to different NBA players at the same stage, and what it might mean for Williamson at his pro peak.
---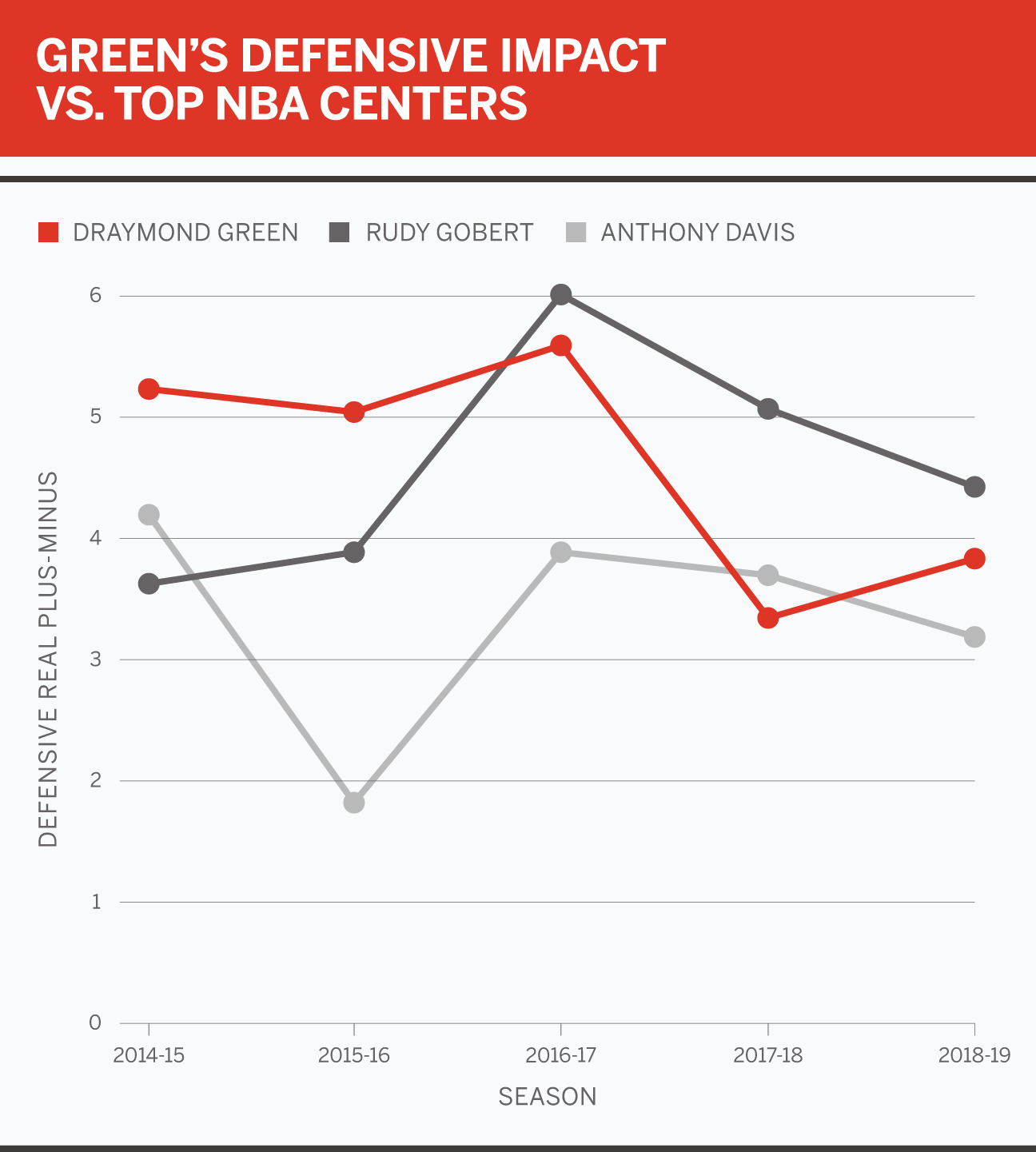 Schmitz: Zion delivers amazing rim-rattling slams, but it's his defensive versatility and willingness to work on that end that make him the ideal modern big prospect, with the 1-through-5 switchability of Draymond Green. Williamson even produced a 7.2 defensive box plus-minus in his lone season at Duke — identical to Green's defensive impact as a senior at Michigan State. In the NBA, Green has consistently ranked among the most effective stoppers in the league, according to ESPN's defensive real plus-minus, despite his size.
Like Green, Zion plays far bigger than his measurables suggest, allowing him to slide all the way up to the center spot, giving Pelicans coach Alvin Gentry ultimate flexibility at the other four positions. Although Draymond (7-1½ wingspan, 8-9 standing reach) is longer than Zion (6-10½ wingspan, 8-7 standing reach), Williamson is close to 50 pounds heavier, with far superior leaping ability to go along with similar defensive feel and toughness.
Zion's nuclear bounce allows him to play with his head at the rim in verticality situations, while his catlike quickness and motor help him cover ground in the blink of an eye to rotate for blocks. Even when he is tasked with checking more traditional bigs, his frame, low center of gravity and competitiveness are enough to neutralize opponents.
Williamson comfortably checked all five positions at Duke, stifling point guards like Ky Bowman, wings like Jarrett Culver and centers like the 260-pound Steven Enoch. He can shift between anchoring a defense to switching to point guards, displaying nimble feet for a player of his weight. Williamson also has outstanding anticipation in the passing lanes, regularly jumping routes with elite closing speed.
He can stand to improve his discipline, but Williamson covers up a lot of his mistakes with effort.
Goldsberry: Green's unique blend of size, strength, speed and smarts has made him one of the definitive players of this decade. As NBA offenses embraced pace-and-space, defenses had to adapt. Many traditional stoppers like Roy Hibbert have lost their jobs, as bigs are now required to defend both the edges and the interior of the court. Green is so unique because he can play great defense everywhere.
He can switch onto almost any player, from Chris Paul to Joel Embiid, and if Zion can do the same in the NBA, his team will be a nightmare. Green's versatility as an individual force is arguably the most important factor that has enabled Golden State to develop one of the best defensive schemes for the current era.
If there were such a thing as a defensive quarterback in basketball, Green would be all-pro.
---
2. Ben Simmons | Transition skills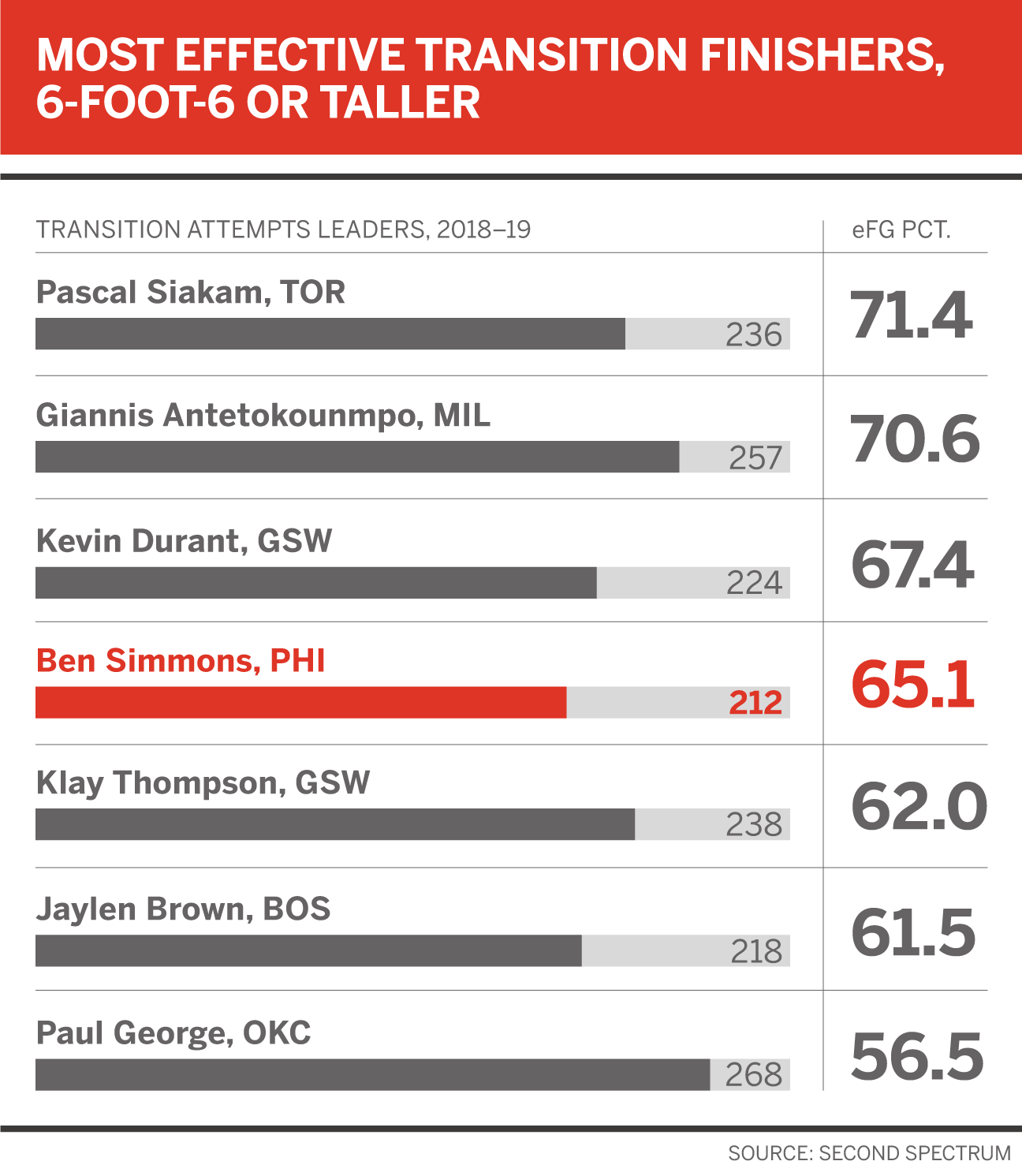 Schmitz: Like Simmons at LSU, Williamson is shifty in the open court for a player his size, pushing off the glass and weaving through traffic with guardlike agility before exploding at the rim for tomahawk dunks. Both players are at their best getting downhill in transition, and the unpredictability of these grab-and-go attacks is what makes positionless players like Simmons and Williamson so difficult to guard in space.
At the collegiate level, Simmons was used as more of a traditional big man in the half-court while being given the freedom to carve up defenses in transition, leading to a host of SportsCenter Top-10 plays. Both players love to use powerful in-and-out dribbles to catch defenders off balance, playing high-to-low and changing speeds impressively, making them nearly impossible to stop with a head of steam. Williamson is an underrated ball handler, with great body control, allowing him to maintain balance while taking off of either foot.
Although Simmons is a far superior passer who has clearly been groomed as a jumbo lead guard, Williamson's court vision similarly expands in the open court. Whether it's through a Hail Mary outlet over the top of the defense or an aggressive push into a thread-the-needle bounce pass, Zion is a heady facilitator against a scrambling defense, something that should come alive even more in the NBA when surrounded by athletes and shooters.
Goldsberry: Everybody loves to point out that Simmons can't shoot 3s. While that's true, it's also misleading, because Simmons is a prolific 3-point creator as a passer. Consider these two facts, via Second Spectrum:
Simmons ranked third in the NBA in 3-point assists this season with 255 (Klay Thompson made 241)

Simmons led the NBA in total transition assists
It's not just that Simmons has a knack for creating shots — he ranked second in the NBA in passes to shooters this season, per Second Spectrum tracking, trailing only Russell Westbrook — it's that he has a knack for creating some of the best shots in the game: the ones in transition and the ones from beyond the arc.
During the regular season, Simmons created a whopping 12.1 3-point assist opportunities per 100 possessions, per Second Spectrum. His vision and feel for the court is world-class, particularly in transition, but those passes are possible because defenses have to honor his own ability to attack the rack.
The world's best transition playmakers are able to both create for themselves and for teammates in the open floor. One reason Zion has such high expectations is because he has the potential to check both boxes at a very high level. He can't match Simmons as a transition distributor right now, but his scoring threat gives him a chance to generate nearly as many great looks for teammates in time.
---
3. Blake Griffin | Playmaking athleticism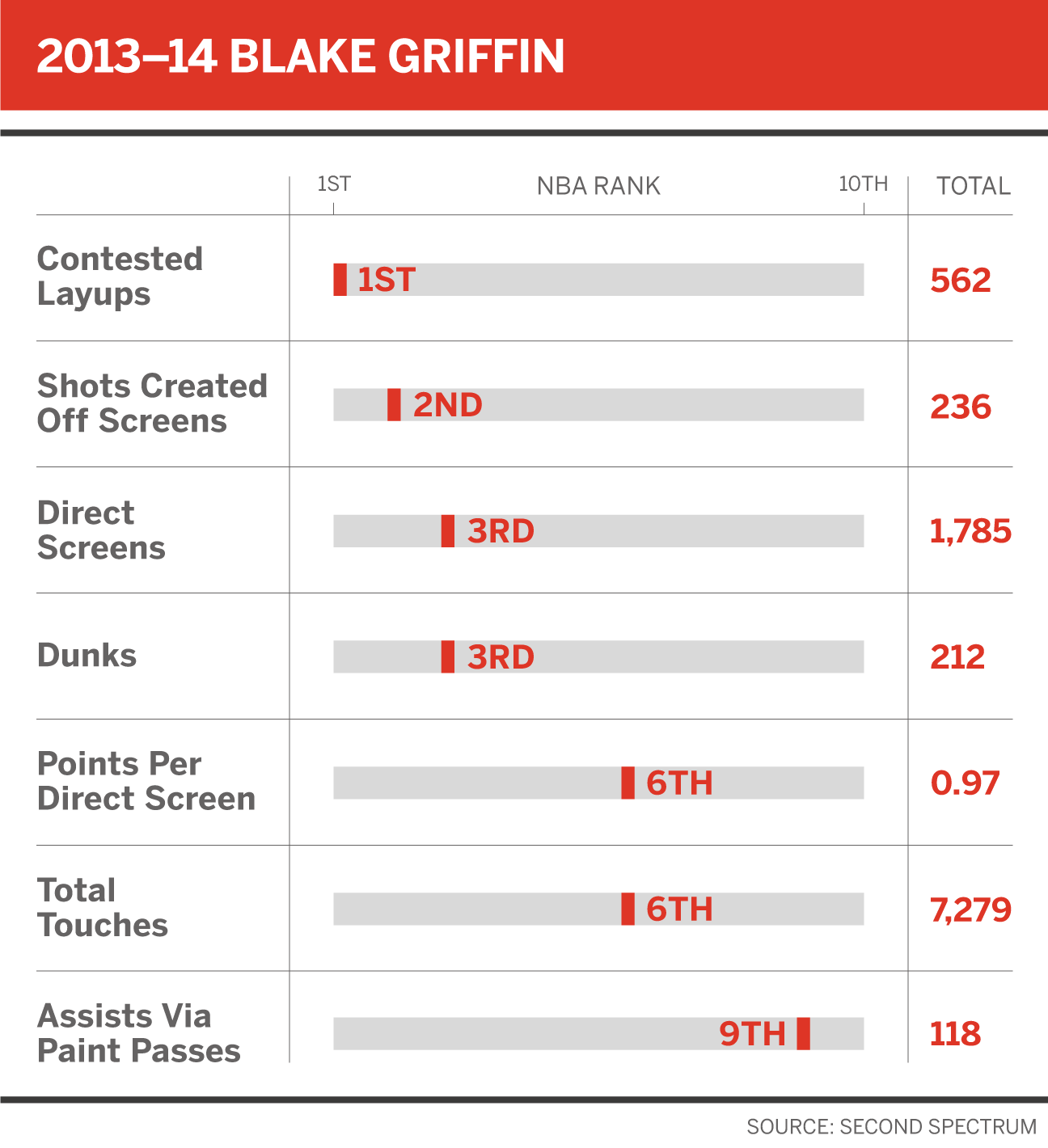 Schmitz: We've never seen a 285-pounder who can sky for dunks quite like Williamson, but Griffin (248 pounds as a 20-year-old) was a close replica. Like college Griffin (6-11 wingspan), Williamson is a power dunker set to tear down the rim on every attempt, doing so despite mediocre positional length. He seems to get just as much lift off one leg or two and is challenging for any shot-blocker to challenge when he gets to his launching pad. But it's not just the dunks that make these two similar.
They're both extremely agile, with sure handles and impressive functional athleticism. They drop fluid spin moves, crossovers, hop steps and low-to-the-ground drives rare for players that strong. Given his strength and coordination, Griffin has developed into quite the shot-creating big, with the ability to even play some 4-5 pick-and-roll, something we saw often with DeAndre Jordan during the Lob City days.
Zion figures to find similar success, as we saw Duke use him as a mismatch ball handler in pick-and-roll situations, scoring 28 points on 22 such possessions. He loves to reject ball screens but can also use the pick to either get downhill and attack or slow up and find an open teammate.
Zion uses devastating lateral hop steps, and like Griffin, his combination of sheer strength, ballhandling, vision and shiftiness makes him a tough cover in space. Williamson is also a comfortable post passer, and his facilitating is likely his most underrated skill. A slightly superior passer at the same stage of development, Williamson should eventually become an even more dynamic playmaker and driver than Griffin as his career progresses.
Goldsberry: Imagine if Dominique Wilkins could pass like Vlade Divac. That's what Blake Griffin has become — an unprecedented combination of scoring, highlight dunks and crafty passing. The 2013-14 version of Griffin, when he finished third in MVP voting, showed that the best way to discourage overzealous help defense and double-teams is with smart dishes.
Whether in the pick-and-roll or in the post, for Zion to reach his full potential he needs to become a great half-court passer at the NBA level. As the league trends more and more toward perimeter scoring, ball-dominant bigs are increasingly rare, and the ones who persist can facilitate like Griffin, who averages more than five assists per game.
As Zion leaves the crowded scoring areas of the ACC, his vision and passing will be vital in the spaced-out world of the NBA. While the combination of interior prowess and perimeter shot creation may seem like an odd formula, it's one that rests at the core of a few of the league's best superstars, including LeBron James and Giannis Antetokounmpo.
---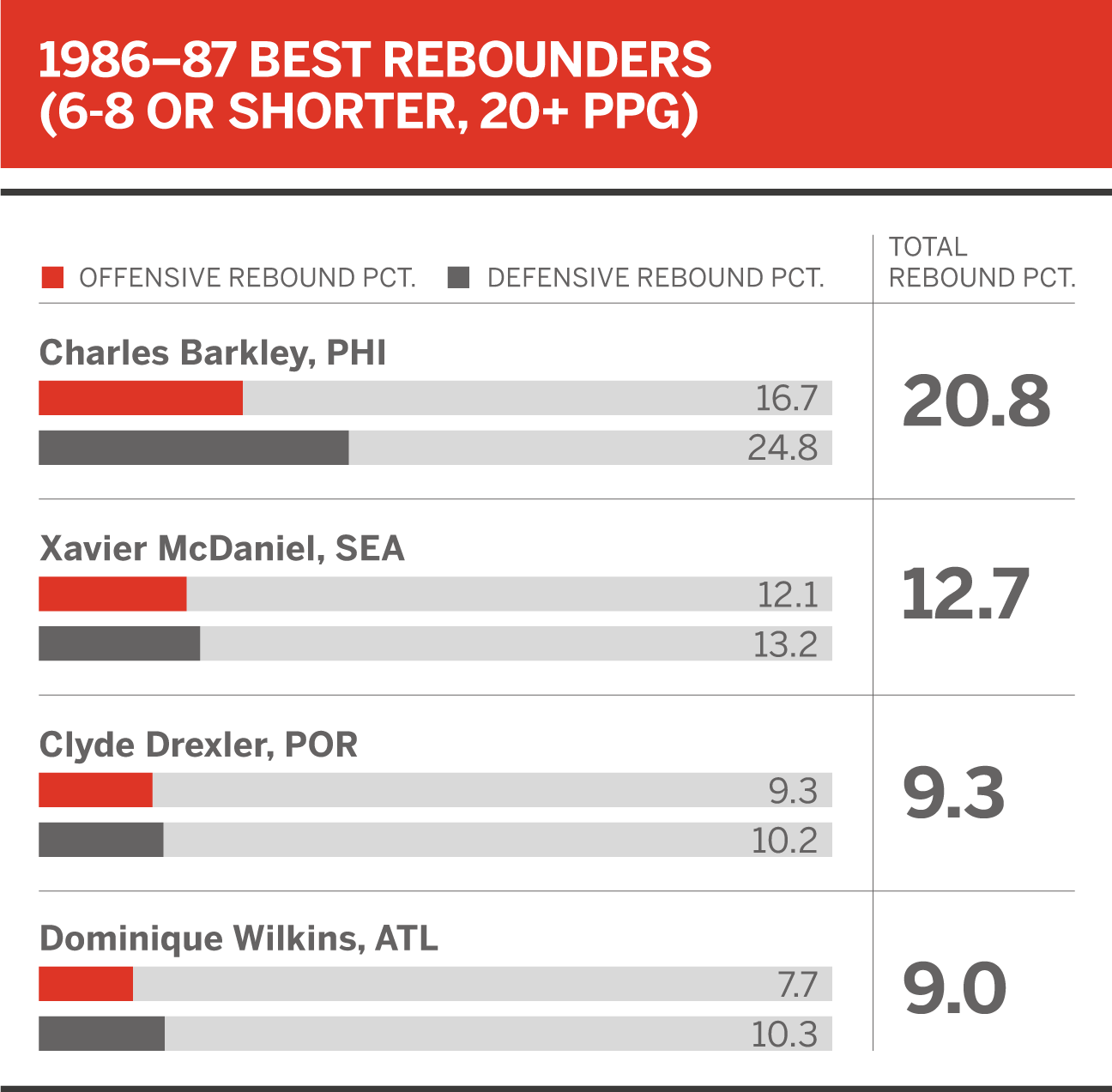 Schmitz: Barkley developed into one of the better undersized rebounders the game has ever seen, so this comp is high praise, but Williamson is deserving.
Zion has consistently proved to be one of the most effective offensive rebounders in college basketball, utilizing quick, powerful swim moves or aggressive spins to beat opponents to the ball regularly. Not only can he sky in a crowd and snatch the ball at its highest point with strong hands, but he'll also throw his weight around, voluntarily crashing against the hardwood to create extra possessions.
Like Barkley, he'll also use his low center of gravity to wedge opponents out of the play on the defensive glass before attacking rebounds in a hurry. The nastiness with which he plays on the glass resembles the NBA legend, too.
Williamson is a thankless superstar who doesn't need plays called for him to have an impact, and his rebounding prowess and motor on the backboards are the main reason why.
Goldsberry: The Round Mound of Rebound is one of the most evocative nicknames in basketball history, but it also doubles as a very brief scouting report for Barkley. Despite his relative shortness and roundness, Sir Charles became one of the best rebounders in his era thanks to his blend of motor, boxouts and smarts.
Zion has a bigger frame than Barkley, but his energy is similar, and that's a major compliment. The pace-and-space era has reduced the number of goliath bigs even trying to get boards, which should benefit Zion. If he can learn the NBA arts of boxing out and back taps, Williamson will become one of the most formidable physical forces chasing rebounds around the NBA.
---
5. Julius Randle | Posting scoring style
Schmitz: Williamson was one of the most efficient post-up scorers in college basketball, punishing switches or even more traditional bigs with a fairly simple approach. Similar to Randle at the same stage, Zion has tremendous drop-step footwork, erasing defenders with his combination of physicality and quickness, turning over his right shoulder before exploding to the rim for short push shots or layups.
Like Randle, Williamson is a bit undersized for his position, with average length and reach, which helped him develop touch shots from all different angles to combat superior length. Both are left-hand dominant, although Zion already was far more efficient at the same stage. Williamson shot 74.7% on all 2s at Duke, while Randle converted 57.1% at Kentucky.
Will Williamson maintain that level against NBA bigs? I'm not sold that he'll operate on the block as often as he did at Duke. He'll certainly have to add counter moves, like Randle did, operating more out of midpost face-up situations. He's still a bit of a blank slate in terms of his post-up attack, but the ingredients are there to make it work.
Goldsberry: The Randle comparison is nice, especially stylistically. I also see a lot of Toronto-era Chris Bosh here if we're talking efficiency.
First of all, Zion is an absolute beast in the paint. He made 76% of his shots inside of 10 feet — that's LeBron-in-his-prime-level efficiency, and by far the highest such mark of any lottery prospect. But his shot activity near the basket also reflects his dominant left-handedness.
That combination of volume and efficiency is something Randle could only dream about when he was 19. If Zion can extend his Duke-era interior dominance into the NBA, we might be looking at the most effective southpaw since Bosh was at his most ferocious with the Raptors.