With their backs against the wall in a must-win NBA Finals Game 5 in Toronto, the Golden State Warriors leaned on an old friend to extend the series: historically great 3-point shooting.
The Dubs are the defining team of our time in part because they've turned the basketball court inside-out, winning games from the perimeter as opposed to the interior. Check out these bonkers numbers from Monday's win:
Golden State made 20 3s while shooting 47% from beyond the arc.

The Warriors made just 18 2s while shooting 45% inside the arc.

It was just the third time that a team won a Finals game with more made 3s than 2s, and just the fourth time that a team won a Finals game despite making 18 or fewer 2-point buckets.
The Dubs caught fire from downtown when they needed to and became only the second team in Finals history to sink 20 or more 3s in a game. For context, the 2004 Detroit Pistons had 21 made 3s in their entire five-game series victory over the Los Angeles Lakers in the 2004 Finals.
Those days are long gone, thanks in part to a pair of world-class jump-shooters who are seeking their third consecutive world championship.
Both Splash Brothers come into tonight's Game 6 (9 p.m. ET on ABC/ESPN App) with 20 made 3s this series, but Klay Thompson has gotten there on 35 attempts, compared to 56 for Stephen Curry. Thompson has been a life-saver in the four games he has played in this series — he missed Game 3 with a hamstring strain — hitting a whopping 57% of his 3s. The rest of the Warriors have combined to make just 33%.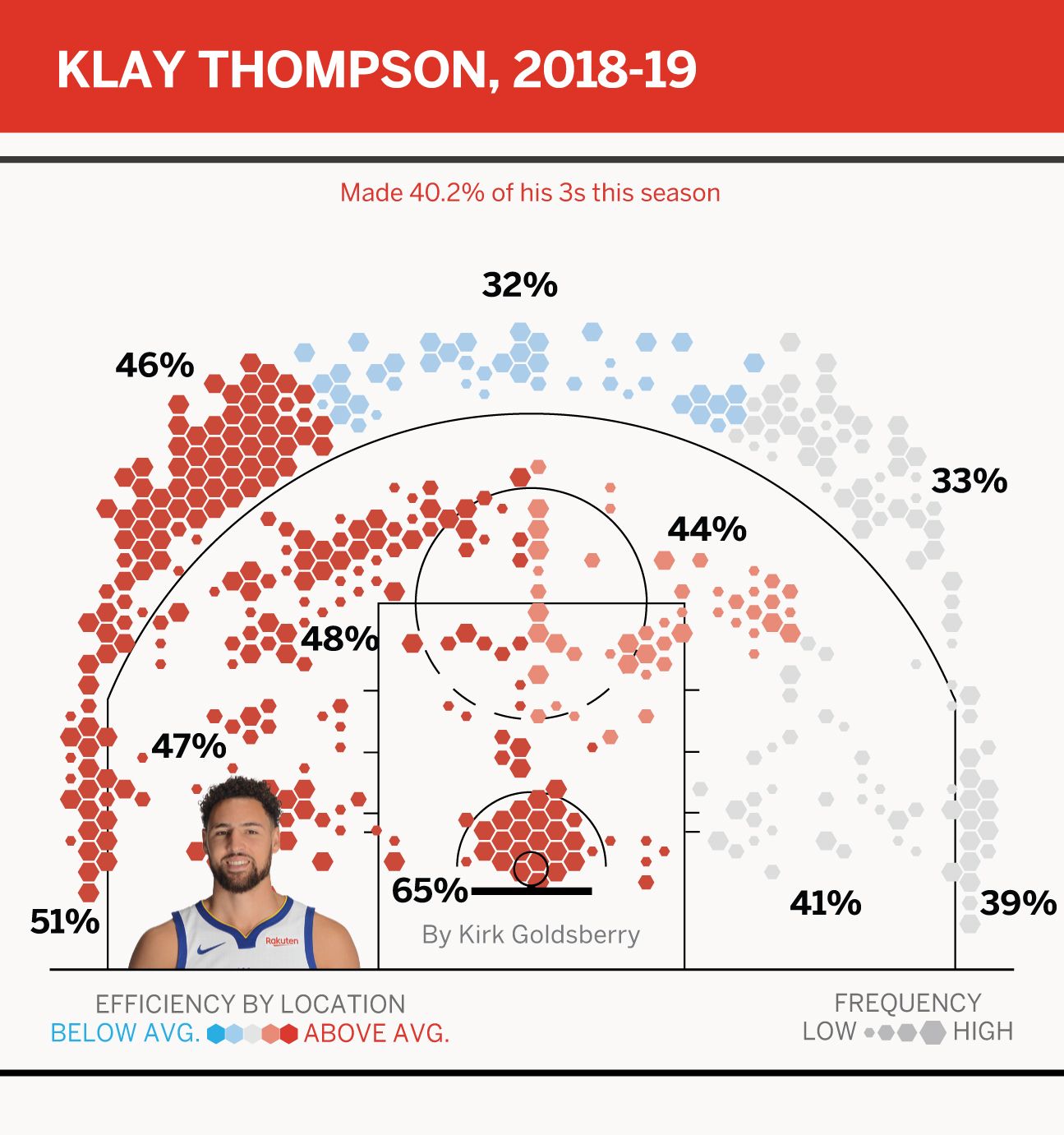 Of course, Thompson is a great shooter — a quick look at his shot chart from this season proves that — but in the course of this five-year run, Thompson has shown himself to be a monster in the biggest postseason games.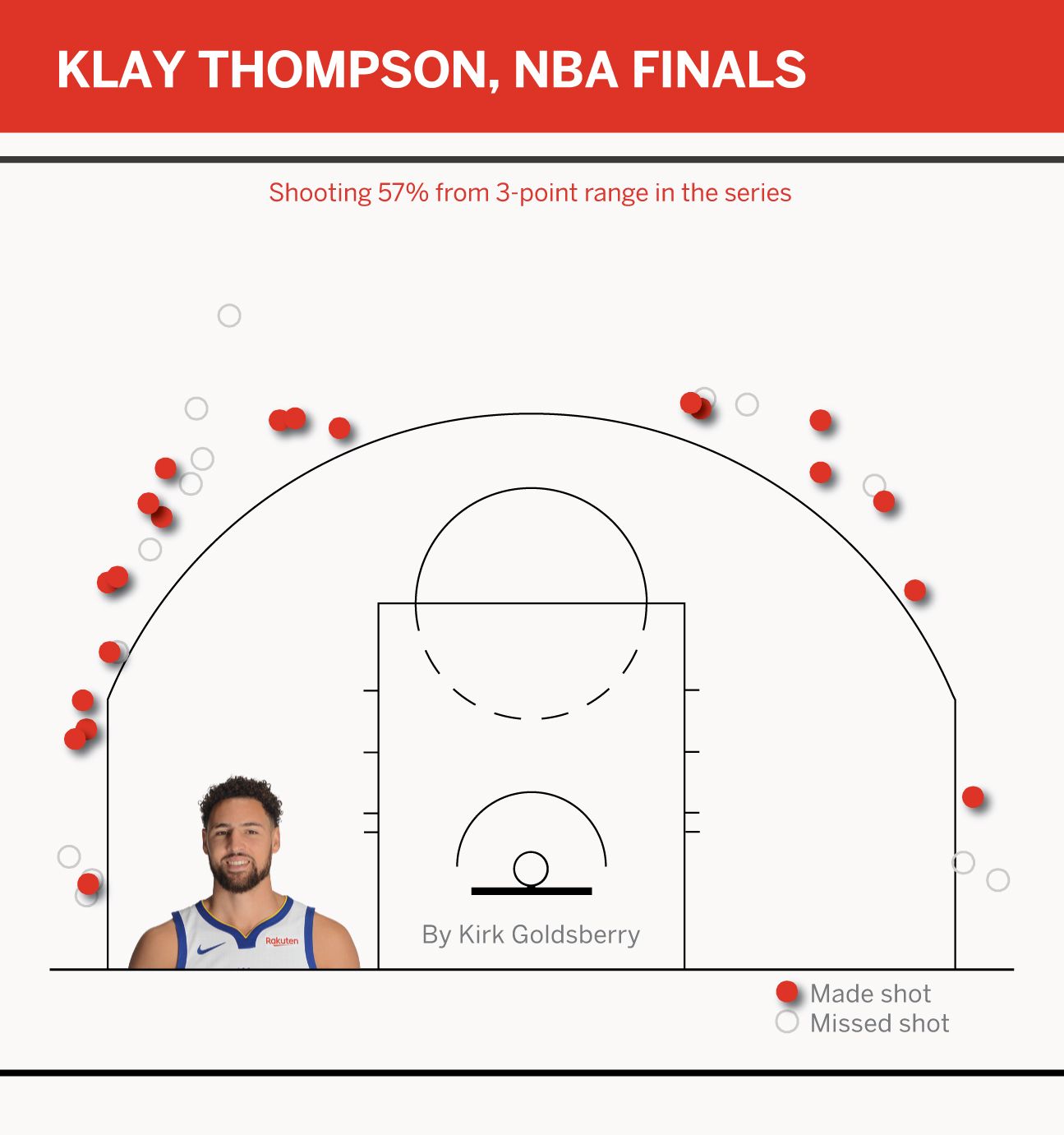 Thompson's big-game résumé is as good as anybody else's in the league, and his timely shooting is once again proving to be best in class in these Finals. Through five games in this series, six players have tried at least 50 shots. All but one of them has an effective field goal percentage between 46.0 and 51.4. Thompson has an eFG% of 65.8.
It gets crazier.
Per Second Spectrum, of the 13 players who have tried at least 20 shots in these Finals, Thompson is taking the toughest looks. Based on shot location, defender distance and other situational factors, Second Spectrum estimates the eFG% of every shot in every game. Their model suggests that Thompson should have the lowest eFG% of any volume shooter in this series. Instead, his is the highest by a mile — his actual eFG% is light-years ahead of everyone else's.
p="">
In other words, Thompson's shot-making is both the most efficient and the most impressive so far in this series.
Perhaps the best example of this came in Game 5, when he turned a post-up play into one of the strangest off-the-dribble 3s of the postseason.
Simply put, Thompson is a man on fire. Even if he goes 0-for-15 from 3-point range in Game 6, he'd still be making 40% of his 3s in this series. That's nuts, especially considering he has been banged up.
Is it sustainable? Maybe not at this level. Thompson's average playoff eFG% since this dynastic run started in 2015 is 53.9%, about 5 percentage points better than expected given the shot quality. But the Warriors only need Thompson to keep firing at this rate two more times. They simply can't afford a bad game from either Steph or Klay to pull this off.
A closer look at that table above reveals that the four least efficient scorers in this series are all Warriors, while seven of the top nine are Raptors. If the Warriors are going to win Game 6, not only must the Splash Brothers be productive, but Golden State's role players also have to be better. The Raptors are averaging 111.0 points per game this series, and even though Klay and Steph are averaging a combined 57.4 per game, the way the Warriors' role players have played, it's hard to imagine them catching Toronto's offense without a lot of extra splashes.
Toronto knows that too, and without the reinjured Kevin Durant to worry about, the Raptors will devote their best defensive resources to slowing down the Dubs' perimeter attack.
Thanks to injuries, this is the thinnest Warriors team we've seen in five years, and it's also true that this Raptors squad is the best defense the Dubs have faced in the Finals during their dynasty. In a make-or-miss league, that's an unfortunate combination for Golden State.
But if Klay has shown us anything in this series, it's that champions know how to defy expectations.