After four years of LeBron James stalking Stephen Curry, and the Golden State Warriors flitting around an overmatched Cleveland Cavaliers defense, it is a relief to land upon an NBA Finals that feels like a mystery after two games.
Few firm patterns have emerged. The two teams have almost the exact same expected effective field goal percentage — 51.9 for Toronto, 51.8 for Golden State — based on the location of each shot and nearby defenders, per Second Spectrum tracking data. The Warriors seem vulnerable, then inevitable.
Hell, we don't even know the health status of three All-Stars.
In looking ahead to Oakland, let's start there.
---
Leonard has 57 points, 28 free throw attempts, and 22 rebounds in two games, so it's tempting to say he's fine. Kevon Looney bounced off of Leonard like an 1980s jobber trying to spear Andre the Giant. Some of those 22 rebounds were those "where did he come from?" flying snatches where Leonard summons a ferocity that is both explosive and icy, stone-faced cool — and honestly a little alarming.
But he has also labored. Draymond Green roasted him for an easy layup. Klay Thompson wrongfooted him a few times off the ball. His free safety work hasn't been as airtight.
Leonard ran only seven isolations in Game 2, his second-lowest figure in the playoffs, per Second Spectrum. He posted up only four times.
This does not look like a fully healthy Leonard getting back on defense:
Leonard was limping noticeably after Game 2. Maybe two days off has helped.
That clip also shows how the Warriors dialed back their help on Leonard in Game 2. They let DeMarcus Cousins set up shop just below the screen and corral Leonard as Thompson, Andre Iguodala or Alfonzo McKinnie chased him over picks. Golden State is going to live with contested pull-up bombs like this over open catch-and-shoots 3s from supporting Raptors: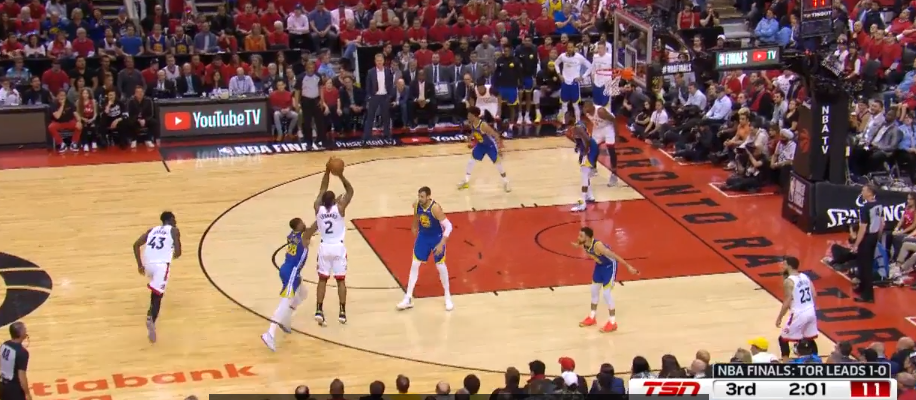 That is probably the correct choice if Leonard is less than 100 percent. Leonard is going to make some off-the-bounce 3s. But these are brutally difficult shots, and he will pass up a lot of them to slither into 2-point range.
---
Wait, wait, who else is playing?
The Warriors found something in the second half by slotting Thompson onto Leonard, and shifting Iguodala to Pascal Siakam — with Green sliding all the way up the positional spectrum onto Kyle Lowry.
Thompson is a little more adept than Iguodala side-stepping picks. Iguodala is the superior help defender by a lot. Golden State's defense reaches frenzy level when both Iguodala and Green — and their four arms — are in passing lanes, instead of having one jostle on the ball with Leonard:
That goes out the window if Thompson can't play. With Looney also out, it would be all hands on deck: more McKinnie, Quinn Cook and Shaun Livingston, and maybe even some wackadoo big lineups featuring Jonas Jerebko, Green, and one remaining center. They'll need even more offense from Cousins — post passing, and maybe even some cross screens to get him an advantage on the block. Is James Michael McAdoo available?
Winning a Finals game without Durant and Thompson (and Looney) — with this supporting cast — would be among the crowning achievements of the Curry-Green partnership.
Without Thompson, the Raptors might even revisit that "janky" box-and-one. Gimmicky defenses have short lives. The Warriors will be ready for it. Goading them into spending time preparing for it is a win in itself.
Leonard has both size and strength on Thompson. Over a long series, he should figure out that matchup. If Thompson's hamstring limits him, the Warriors might have to rejigger matchups. In that case, that one of their centers — Andrew Bogut — looked comfortable guarding Siakam down the stretch of Game 2 raises some intriguing possibilities. Green looked good on Leonard, though that erodes his ability to help elsewhere.
The Raptors can help Leonard by getting him the ball in motion, in more varied ways. Clearing one side and running Leonard off a pindown from Marc Gasol — a play the Warriors won't want to switch — is something to revisit:
Ditto for the corner sets when Gasol holds the ball up top while Leonard and Toronto's point guards screen for each other. Those worked well in prior rounds, but the Raptors have not executed them with as much force against the Warriors.
Leonard is smart hunting duck-ins; he can bulldoze Thompson in the post with good spacing around him. The Raptors cannot miss him — as Serge Ibaka did here — when he flashes open: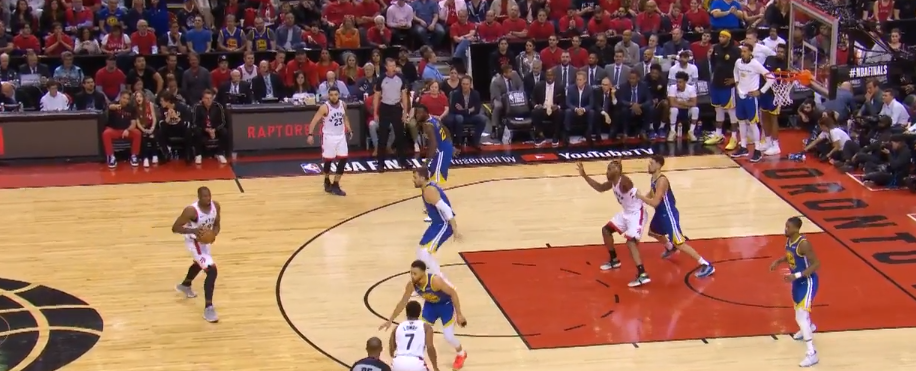 Oh, yeah: The possible return of Kevin Durant at some point obviously changes everything.
Golden State would get the Death Lineup back. Would Toronto counter with Siakam at center, something I've anticipated all season but that Nick Nurse has rarely used — and might have been rendered moot with the acquisition of Gasol? OG Anunoby resurfacing would be an interesting related mid-series plot twist.
Even if Durant can only stand and shoot corner 3s, that would be huge. Cook changed Game 2; the Warriors played more lineups featuring three long-range threats (Cousins, just 28-of-97 from deep this season, doesn't count right now) instead of two or just one. The impact of one extra shooter around Curry and Thompson is exponential.
One example: Golden State loves to have both Green and its center — two non-shooters — set a staggered screen for Curry:
When Durant is healthy, they plop him in one corner and Thompson in the other. Good freaking luck.
---
Which Lowry and Gasol show up?
Two related Toronto bellwethers: the combined performance of these two persnickety pass-first stars, and the Raptors' overall assist rate.
Lowry has just 20 points on 6-of-20 shooting with 11 assists through two games. The drawn charges, ass-first screens, deflections, and sneak rebounds are all nice, and very much impact winning, but the Raptors need more good ol' box score stats (though not fouls).
Toronto has to punish Cousins in the pick-and-roll. He's understandably winded. Fred VanVleet has been more aggressive doing so than Lowry. I don't mind Lowry boogying into a step-back 2 when Cousins switches onto him — any score-first gusto is welcome — but there are low-hanging 3s and driving angles.
Golden State sliding Green onto Lowry seemed to throw off the Raptors. Several of my esteemed colleagues have since written that Lowry is not the sort of cutter who can exploit Green's roving. I respectfully disagree. Lowry is always vibrating. He plays on his toes. He is a smart off-ball mover.
For most of his prime, Lowry has been a give-it-up, get-it-back mover. With Leonard, Lowry has to be a never-got-it mover. He can be. One smart Lowry cut in the third quarter of Game 2 unlocked an open 3 for VanVleet — himself one of the cagiest off-ball movers in the league. Lowry should use those off-ball screens for Leonard near the corners as chances to cut for scores.
He stood and watched too often in Game 2. Toronto has suffered from bouts of stagnation and overeager contested jumpers early in the shot clock. Games at the highest level are so interesting that way: Even great teams can lose their rhythm for no clear reason, and fail to get it back.
Lowry can set flare screens when Green isn't looking, and crash for offensive rebounds. He could also set ball screens for Leonard, but with Thompson and Green as the primary defenders, Golden State can just switch that play. The calculus changes a bit if Curry is stuck on Lowry, or if Thompson is out.
(I've kinda given up on Leonard-Danny Green pick-and-rolls as a method of targeting Curry. I never had faith in Green post-ups, and his one backyard Hakeem Olajuwon impression in Game 2 went poorly.)
Meanwhile, Gasol lumbered behind Cousins on the pick-and-roll in Game 2 — a good way to attack Boogie's feet:
Mixing up tactics is always healthy.
---
Should the Raptors switch more?
Toronto has switched just 17 of 159 off-ball screens, per Second Spectrum. (That seems low, but it matches the general eye test.) They aren't even switching the Curry-Draymond Green pick-and-roll — Golden State ran 16 in Game 2 after running only seven in the opener — when Leonard is on Green, and switchability would seem to be the reason behind putting Leonard on Green.
That isn't bad or good on its face. There are some off-ball screen types — like Golden State's centers screening for Thompson — you don't want to switch because of the cascading mismatches. When the Warriors know you are about to switch an off-ball screen, they slip out of it early — and bolt to the rim. Weirdly, part of an effective switching scheme against Golden State is knowing when not to switch — as Siakam shows here in anticipating Jerebko's hard cut:
Siakam has managed well enough pursuing Thompson — a tough matchup for any power forward, even one as quick as Siakam:
Check out that subtle flash by Gasol off of Looney: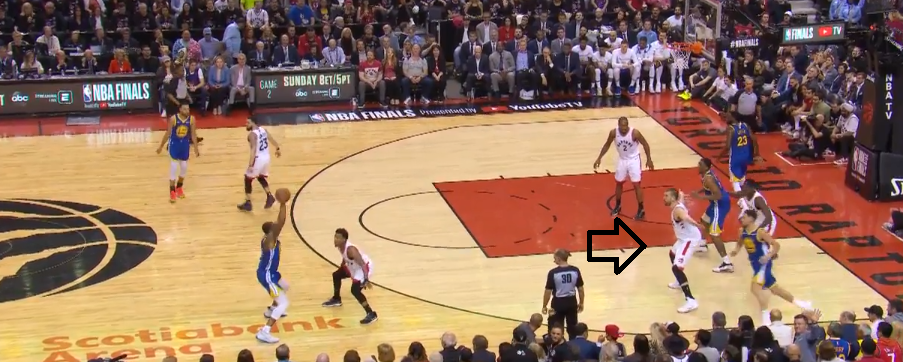 Defending Golden State's non-shooters is almost as stressful as chasing the Splash Brothers. Common sense says you should ignore those non-shooters to help on the real threats, but stray too far, and the Warriors turn them into screeners and handoff partners for their superstars. "Help defense against the Warriors is totally different," Portland's Meyers Leonard told ESPN.com days after the Warriors swept the Blazers.
Over and over, Golden State suckered Portland's bigs into helping when they shouldn't have and failing to help when they should have. Toronto has done a better job striking that balance on a second-by-second level:
There is a lot going on there. Gasol is close enough to Looney to disrupt any handoff to Curry; he sags away only when Curry cuts toward the rim, and then scoots back to Looney in case Thompson arrives. At the same time, Leonard ignores Iguodala to patrol the paint: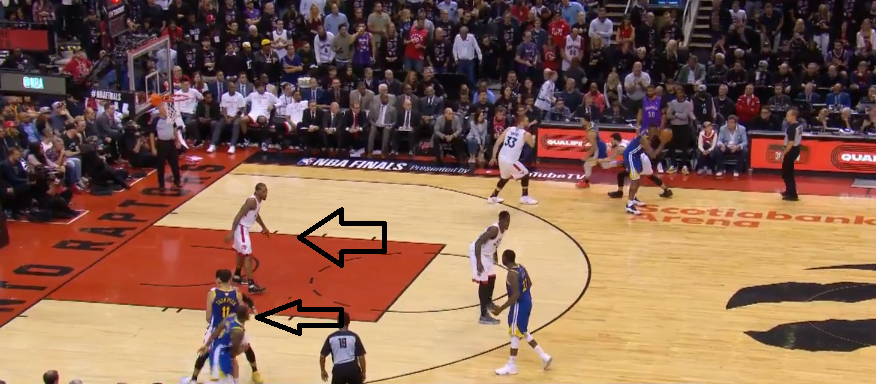 Leonard is safe abandoning Iguodala because Siakam is pressing Draymond Green nearby in case Thompson pops off a pindown there. Siakam eventually switches onto Thompson — improvised, it appears — leaving Danny Green on Draymond Green. Danny ignores Draymond to cut off Thompson's drive, which for a half-second exposes a Draymond-to-Curry handoff: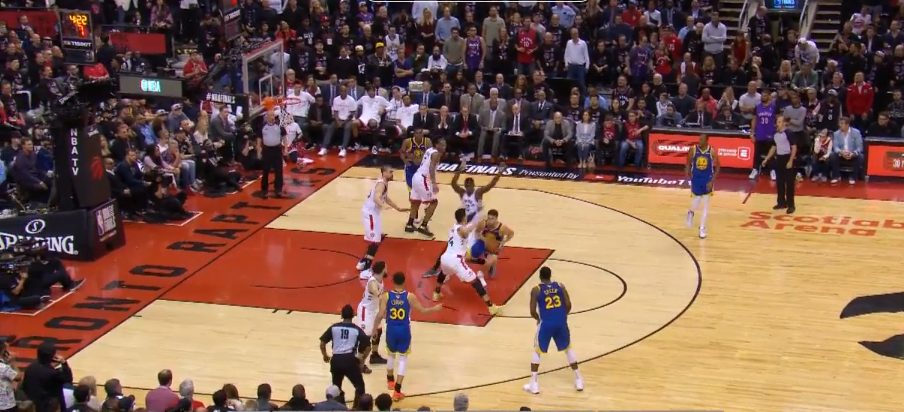 But Danny Green knows what's coming, and sprints back out — a human yo-yo move that is really tough to pull without screwing up.
Any time you make the Warriors work this hard for a long 2, you've done well. Allowing for some hiccups, Toronto has been diligent tracking Curry relocating for 3s — as Lowry does here after Curry dusts VanVleet, gives the ball up, and zooms to the corner:
(Thompson got loose in Game 2, and I wonder if Toronto will go back to using Danny Green more on him — with Siakam on Iguodala and Lowry on Curry. The downside is lack of size on Curry.)
Toronto in general seems reluctant to switch as many Curry actions as most Golden State opponents do. It could be a way of simplifying things. It could be Nurse going against expectations, keeping a card in his pocket. It could be players not switching as much as Nurse would like.
It has occasionally burned Toronto:
(Look again at Gasol yo-yo-ing between helping away from Looney and pressing him.)
The Warriors hurt Toronto late in Game 2 with inverted Green-Curry pick-and-rolls; Toronto failed to switch one, and scrambled to switch another at the last second — too late.
Golden State in Game 2 cut and screened with a bit more unpredictability. They even busted out their "Cyclone" play, and of course it sprung Green for a layup. Curry screens led to a game-high four buckets — a stat that has been much mocked even though it is illustrative of Curry's immense and unprecedented off-ball value:
When the Warriors are at full throttle, they have a knack for synchronizing their on-ball and off-ball actions — timing pindowns (on the left side below) to hit at the same time as a pick-and-roll up top:
Curry waltzed into this 3 in part because the Toronto defense fixated on Thompson flying off a pindown on the right wing:
That stuff is mean. It is a way of occupying four defenders at once. How do you react when you don't know which threat is real — or if all of them are?
When the timing is a beat off, Golden State is easier to guard. The timing was right in Game 2; Golden State scored 106.8 points per 100 possessions in the half court, miles better than their miserable Game 1 figure — and the best mark anyone has hung on Toronto in the playoffs, per Cleaning The Glass.
Off-ball screening and cutting hurt Toronto worse than Curry's pick-and-rolls even as the Warriors leaned on those more in Game 2, per Second Spectrum. The off-ball action appeared to confuse the Raptors. Toronto guarding Golden State's non-shooters lost the feel balancing between helping and staying home; the Raptors started clinging too closely, allowing lobs and backdoor cuts.
Switching is no catchall. The Warriors know how to beat it. But Toronto might have watched film and concluded it should do it a little more in Game 3.
Of course, Durant is (among many things) the Warriors' trump card against switching. How close is he? We have between three and five games left in the season — and still so much unknown.