The Brooklyn Nets and LA Clippers have taken home-court advantage heading into pivotal Game 3s on Thursday.
What adjustments do the Philadelphia 76ers and Golden State Warriors need to make?
Let's start in Philadelphia, where all eyes are on the Sixers' point guard.
---
76ers-Nets
The Har-Ben-ger of things to come
If Joel Embiid's knee soreness keeps him at less than 100 percent, then Ben Simmons becomes an even bigger key in this series. Simmons was invisible in Game 1, and Philly lost. He dominated Game 2, and Philly rolled.
Here are two Simmons facts that summarize his importance to his team:
After logging just nine points and three assists in Game 1, Simmons was ferocious in Game 2, putting up 23 points and 12 assists in the win. All eight of his Game 2 buckets came near the bucket — not surprising considering over 97 percent of Simmons' field goals came in the paint this season. But when Simmons is pressuring the rim, good things happen elsewhere, too.
After making just three triples in Game 1, Philly drained nine in Game 2. Spacing starts by pressuring the rim, and when Simmons has it going he fuels the offense by blending rim attacks with perimeter shot creation.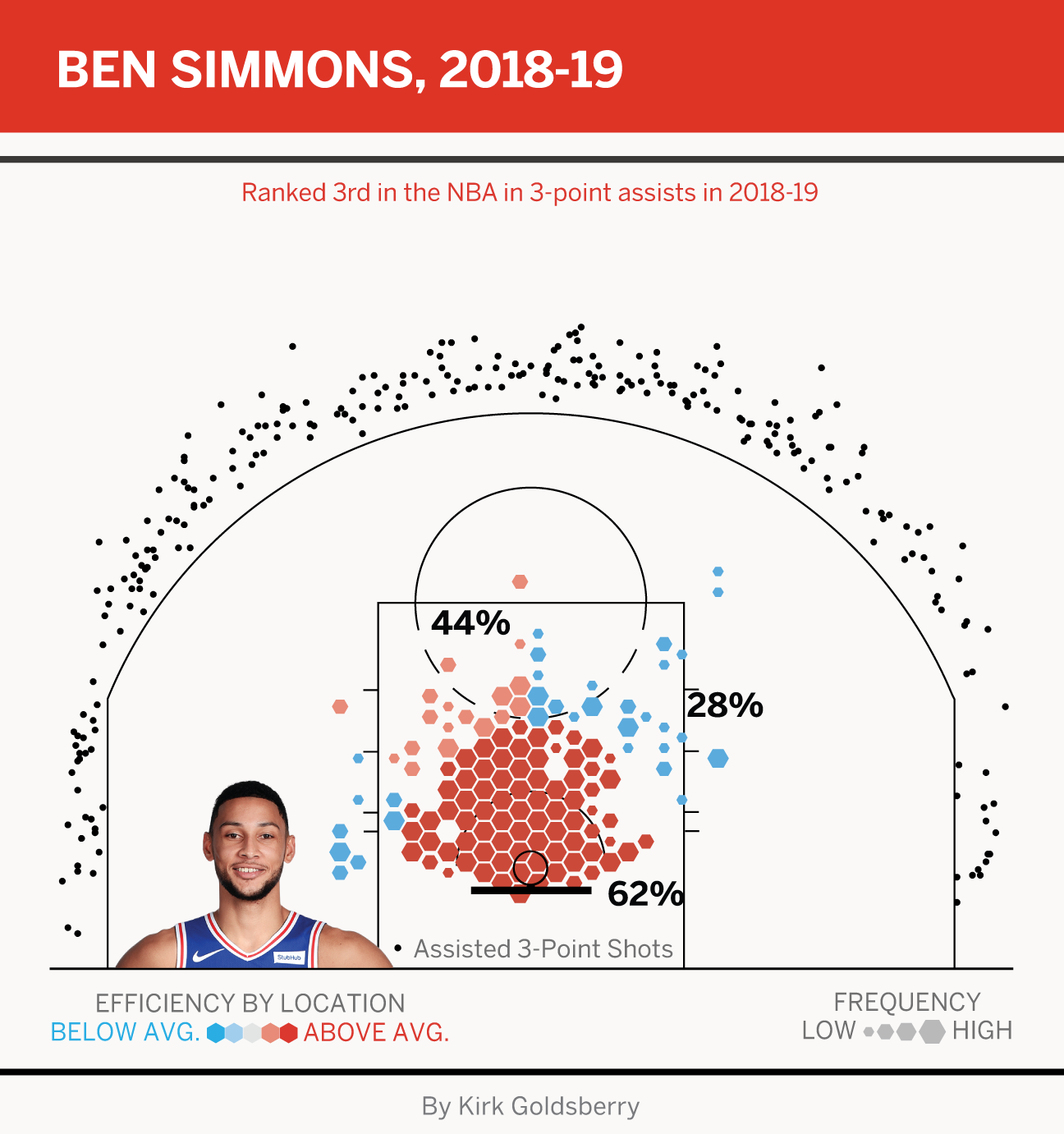 Simmons assisted on more 3-pointers this season than Klay Thompson made, and if the Sixers have any chance this postseason, they'll need him to make a lot of splashes for his teammates, since it's not in the team's DNA to jack up 3s.
Only the Spurs have launched fewer deep balls per 100 possessions in these playoffs, and only the Jazz and Thunder have shot worse. However, Philly ranks second in shot quality on 3-point attempts, according to Second Spectrum tracking. There's good reason to fire away if Simmons can generate clean looks.
And Brooklyn has been ignoring Simmons at the point of attack, sagging to an extreme. I mean, just look at this: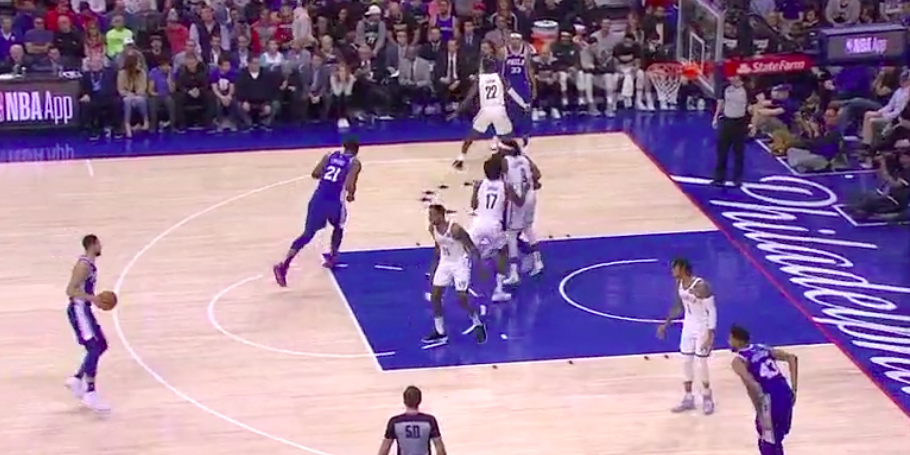 If Game 2 is any indication, Philly's counter is to give Simmons a running start and attack this disrespectful strategy in the heart of the paint. Simmons is at his best driving toward the basket and making plays for himself or his teammates. It's hard to see how giving him a running start helps Brooklyn slow down Philly's main catalyst.
Regardless, if the Sixers want to make a deep playoff run, they need to ramp up their 3-point activity. Simmons is the key to that.
---
Warriors-Clippers
The Warriors aren't going to lose this series, and it would be unwise to overreact to their Game 2 meltdown. Still, there are three somewhat concerning developments that could impact the champs later on in the postseason, starting with …
Losing DeMarcus Cousins
The loss of Cousins is clearly a big deal. On offense, Cousins is a Swiss Army knife and one of the most versatile big men in the league. He can post up, spot up, pass, rebound and put back. Playoff basketball is matchup science and Cousins is a matchup nightmare. His replacements are not.
Andrew Bogut and Kevon Looney demand much less attention, and in turn opposing big men will suddenly become more available as help defenders and rim protectors. This may not be a huge deal versus the Clippers, but either Clint Capela or Rudy Gobert loom large in the second round.
On defense, Cousins led the team in both rebounds and blocks, but not by a wide margin, and the numbers per 100 possessions suggest that Bogut can fill those statistical voids. However, Bogut is 34 and it's fair to question just how much he can give this group right now. Can he switch onto smaller players? Can he keep up in transition? The rest of this series will provide some answers, and give the Warriors a chance to calibrate new approaches in the absence of Cousins.
The Warriors should be fine against LA, but in a world where they're facing James Harden next, the Cousins loss could prove disastrous. After all, the only time Golden State beat Houston in four chances this season was back on March 13 when Cousins had 27 points, 8 boards and 7 assists.
Still, if any team can absorb the loss of its starting center, it's this team, whose dominance is linked in part to small-ball lineups featuring Draymond Green at center.
Kevin Durant needs to be better. Yes, Patrick Beverley is a good defender and a world-class agitator, but Durant can't get embroiled in Beverley's head games. After being ejected in Game 1, Durant fouled out in Game 2 thanks in large part to committing a whopping four offensive fouls in the second half. How bad is that? Check out these two factoids, from the Elias Sports Bureau:
The last player with four offensive fouls in any half of a playoff game was Boris Diaw, who committed four in the second half of Game 4 of the Suns' 2008 first-round series against the Spurs

The last time a player had four total offensive fouls in a playoff game was LeBron James in Game 4 of the 2012 Eastern Conference finals (Heat-Celtics). James fouled out in that game, the first of two career playoff games in which he has fouled out.
Durant needs to improve in Games 3 and 4. He had nine turnovers in Game 2, which cost the NBA's best offense too many possessions. The Warriors are virtually unbeatable when they take care of the ball. But with Cousins out and a thin bench, if they're as careless as Durant was in Game 2, they're as vulnerable as ever.
Lou vs. everybody
When the Warriors are at their best, they are both an offensive and defensive juggernaut. But they let the Clippers score 72 points in the final 19 minutes, 23 seconds of Game 2, mostly because Lou Williams caught fire and had 26 points and seven assists in that window.
The Warriors need to slow Williams down, and one easy way to do that is to keep him off the line. The dude scores almost a third of his points at the stripe, and those freebies are central to his overall efficiency.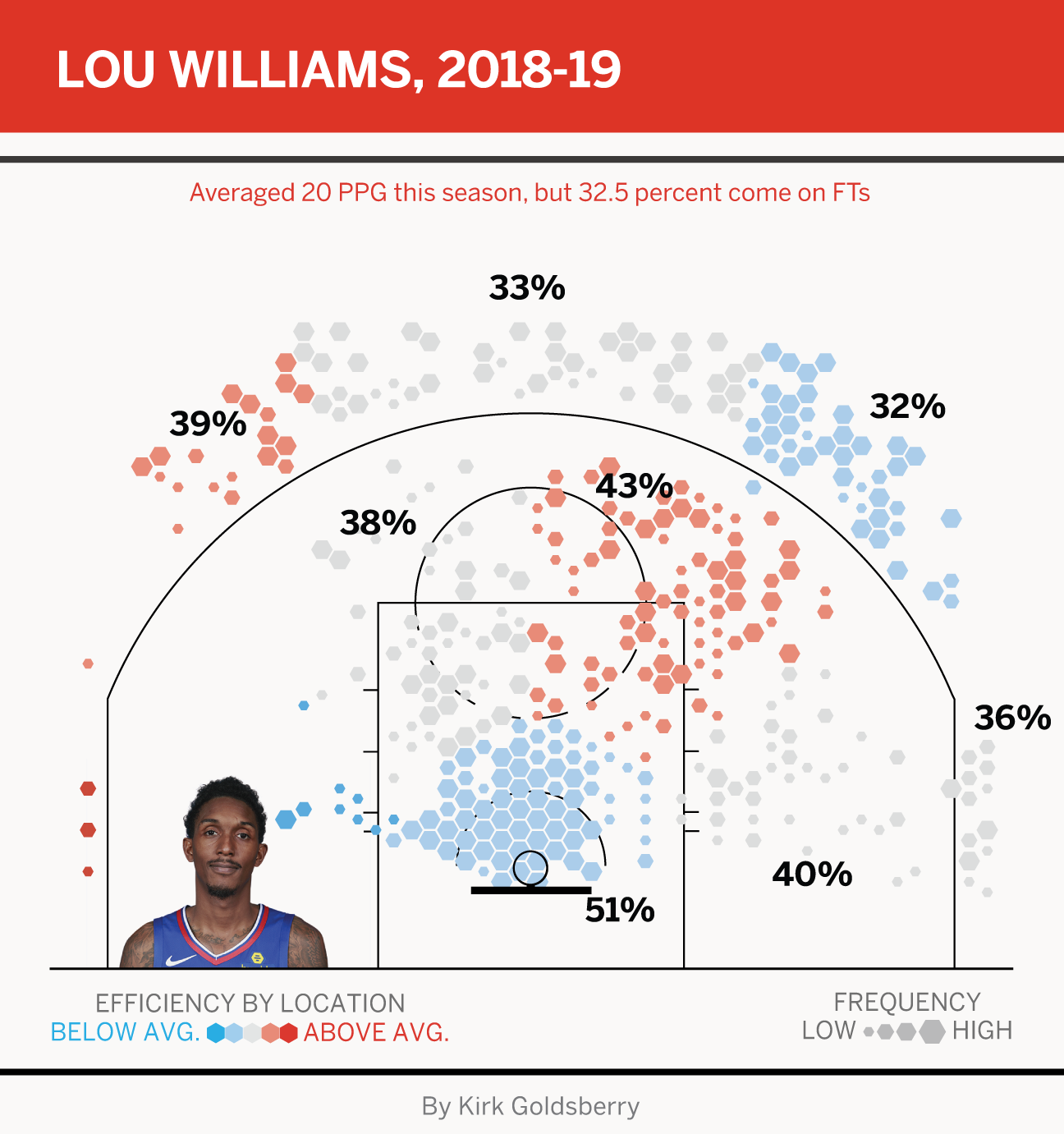 So far, Klay Thompson and Andre Iguodala are doing the lion's share of the work on Williams, but even those illuminati-level defenders aren't doing enough. In Game 2, Lou did most of his damage on driving layups, on floaters and, of course, by drawing fouls.
Only one other guard in the league shoots more free throws per 100 possessions than Lou, and his name is James Harden. And just like Harden, you have to make him beat you from the field, not the line.
The Warriors should develop good habits now. They may come in handy later on.