The No. 7 seeds in each conference enter Tuesday's Game 2s having stolen home-court advantage — for now.
Here are the key adjustments and matchups to watch in Raptors-Magic and Nuggets-Spurs.
Raptors-Magic
Traditions must be honored. And so it is that sphincters will be a-tightening for Game 2 of a first-round series in Toronto.
A Raptors optimist — just kidding, there is no such thing — would chalk up Toronto's annual opening Saturday gag as a "make-or-miss-league" loss, and the Magic are indeed unlikely to hit 14-of-29 from deep again. But 48 percent from 3-point range is an expected outlier, if there is such a thing, not an insane one; Orlando hit at least 45 percent of its 3s in nine of 82 regular-season games. It happens. So does a decent shooting team — Toronto — hitting 33 percent of its 3s.
Orlando also shot 36 percent on 2-pointers, its worst figure in any game this season. Transfer a couple of made 3s from the Magic to the Drakes, and, sure, Toronto wins Game 1, but likely not in the convincing fashion we might expect from a No. 2 seed.
Orlando is 3-2 against Toronto this season. The Magic finished Game 1 with the poise of a postseason regular — running their stuff, gauging the response of Toronto's defense, and guiding the ball to open shooters.
The Raptors are the better team, but they are going to have to play like it. How?
• Start by targeting D.J. Augustin when Orlando has him guarding Kyle Lowry — as the Magic did for much of Game 1. Any screening action involving Lowry and Kawhi Leonard — on or off the ball — produced good results. Switch, and Leonard beasts:
Leonard destroys Evan Fournier, and that is instructive; Orlando's counter to any Augustin-hunting is to hide Augustin on Danny Green, leaving Fournier on Lowry, but that doesn't make switching any more palatable if Leonard can overwhelm Fournier. He can do the same to Wes Iwundu, who took the Leonard assignment when Aaron Gordon rested, and Michael Carter-Williams.
• Shift Augustin onto Green, and the Raptors can just use Green as a screener. Bonus: We might glimpse Green's slow-motion post-up game, which has been oddly effective against smaller point guards this season. If he hits a loping lefty hook off the glass, we all chug Molsons.
• Lowry and Leonard teamed in only three pick-and-rolls, per Second Spectrum, and that number should be higher in Game 2; the Magic don't want to switch that action, and Toronto pries open good stuff as the Magic help and recover:
• Lowry ran only eight pick-and-rolls combined, his sixth-lowest figure in any game this season, per Second Spectrum. That isn't enough. Toronto can generate open pick-and-pop 3s for Marc Gasol anytime by running Lowry/Gasol and Leonard/Gasol two-man actions. If a third defender lunges over to challenge Gasol's shot, he can shift into passing mode.
Lowry has never found the right balance in his offense when sharing the floor with Leonard. Perhaps they didn't play together enough. But he has erred on the side of passivity all season — strangely so at times. Maybe his ankle and back are sore now, but Lowry going into hot-potato mode is not a new thing. (Lowry in hot-potato mode is still effective, by the way, because smart touch passes are generally good things, and he is a sharp cutter once he gets rid of the ball. But to go as far as they want, the Raptors need peak Lowry, and this ain't it.)
• If Toronto picks more at Orlando's weak spots, the Magic can respond by sending more help away from Pascal Siakam. Orlando did not pay him much attention off the ball in Game 1: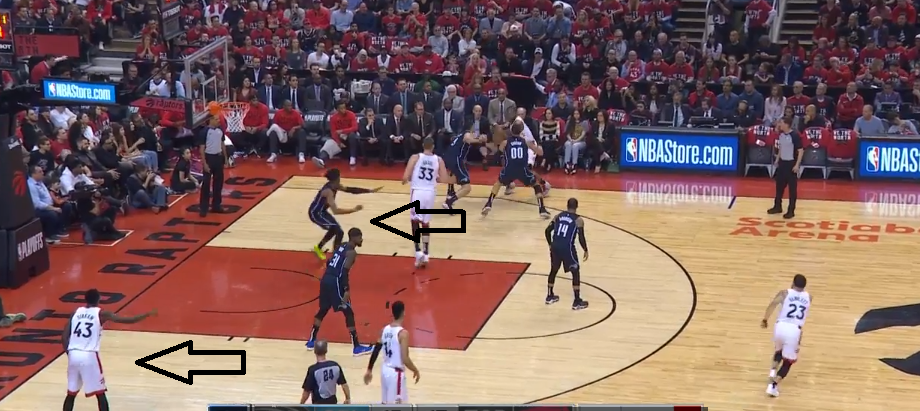 Toronto countered by putting the ball in Siakam's hands; Siakam ran eight pick-and-rolls, his second-highest total in any game all season, per Second Spectrum. Toronto got good shots when either Lowry, Leonard or Gasol screened for him. The Raps should keep plumbing that.
• The Raptors can also reverse the ball to Siakam, and have him run an immediate handoff with one of their good shooters as Siakam's defender rushes to recover. Think of Draymond Green when defenses ignore him.
• Those plays take verve, and Toronto was lethargic getting into its half-court offense at times in Game 1. They cut at half-speed. They whiffed on too many picks. Credit the Magic for some of that. They make teams uncomfortable and take away the easy stuff.
Going earlier would inject some needed side-to-side action. Orlando is not going to give a lot of offensive rebounds, free throws or fast-break points. Toronto needs to execute with more zip.
• Jonathan Isaac is long and fast enough to stray from Siakam without leaving him open too long, or flailing out of balance. He looms as an interesting bellwether. Isaac played 40 minutes in Game 1, most of any Orlando player. That is stunning, considering Orlando's best lineup — its frequent closing group — does not include him: Augustin, Fournier, Terrence Ross, Gordon and Nikola Vucevic. That group logged only two minutes in Game 1. (Orlando won those minutes 9-0.)
Isaac scored enough to pay it off. If the Magic veer toward that smaller group in Game 2, they might unlock Siakam's post game. They want Gordon guarding Leonard; if Isaac is on the bench, that leaves a smaller player on Siakam.
• Nick Nurse needs to be careful sitting Lowry, Leonard and Gasol at the same time. They rested together for five minutes in Game 1.
• I still get uneasy when Steve Clifford runs out bench-heavy units in which Ross and Gordon are the only offensive fulcrums. He has recently gone a step further, and leaned on a lineup of Carter-Williams, Ross, Iwundu, Isaac and Khem Birch. That group went minus-5 over three minutes in Game 1. (The version with Gordon in Isaac's place logged only one minute.) Those are "buying time" lineups. They are "close your eyes and hope some random jumpers go in" lineups.
Clifford already cut those groups to four total minutes in Game 1, and he went back to Fournier much sooner in the second half. That is playoff coaching.
• The Raptors are going to switch on defense with everyone but their centers. Watch Leonard, Green and Siakam trade assignments in rapid fire:
Toronto will fight to avoid switching its centers. That makes Vucevic an even more important hub for Orlando. Gasol can neutralize Vucevic in the post, but Vucevic is a problem in open space. He can pop for easy 3s, and make the correct pass when Toronto rotates an extra defender toward him.
Toronto did a decent job containing the Fournier-Vucevic two-man game on the left side of the floor, but when that action forces a switch, the Magic have to go into Vucevic on the block. They forfeited a couple of chances in Game 1.
• Toronto may toy with blitzing Augustin in Game 2. They trapped Ross on a few Ross/Birch pick-and-rolls, wagering correctly that Birch would not hurt them making plays far from the hoop. Vucevic can, which is why the Raptors should be wary overcorrecting for Augustin's scorching Game 1. If they blitz, Vucevic can slip to the rim, take a pocket pass, and do damage:
Vucevic mixing in some hard rolls is healthy regardless of Toronto's strategy. He has a nice floater, and when he watches film of Game 1, he'll see a few open kickout passes waiting to be made.
• Nurse going with Green on Augustin in the second half — and Lowry on Fournier — seemed to work.
• Toronto may have overreacted having its big men fly out to swarm Ross off pindown screens. Ibaka doubled him a few times when the screen didn't really hit; that set off a bad chain of reactions:
Let the help come from Carter-Williams' defender up top instead.
Nuggets-Spurs
• Two-thirds of San Antonio's attempts came from the midrange in Game 1, the highest such share for any game, by any team, this season, Ben Falk of Cleaning The Glass told me.
It should be impossible to win an NBA game in 2019 with that shot distribution, though as Falk pointed out Friday, the Spurs have specialized in winning extreme midrange games. It's not as if San Antonio feasted on easy catch-and-shoot 2s against Denver, either. They got some, but their guards — mostly Derrick White and Bryn Forbes, with a couple of DeMar DeRozan toughies late — canned a bunch of contested runners and pull-ups.
San Antonio finished with an effective field-goal percentage almost seven percentage points fatter than we would expect based on the location of each shot and the nearest defender, per Second Spectrum — by far the highest Game 1 differential. The Spurs are a great shot-making team, but Denver should be fine with the shots San Antonio made.
• That includes shots Denver yielded when doubling DeRozan and LaMarcus Aldridge in the post. But should Denver bother doubling at all? They played stout one-on-one defense on both.
The Nuggets were more aggressive doubling Aldridge when Jakob Poeltl was also on the floor. Such lineups feature fewer spot-up shooters than smaller outfits with Rudy Gay in Poeltl's place, meaning Denver defenders have less distance to cover.
Denver was more judicious doubling when the Spurs stationed four shooters around Aldridge. That's smart. The Spurs scored just 0.7 points per possession on trips featuring an Aldridge post-up, and even fewer when those post-ups led directly to a shot, per Second Spectrum. Their defense on him (and DeRozan) worked.
Still: They might be able to dial back the double-teaming even more in Game 2.
• Something to monitor: San Antonio went minus-4 in 10 minutes with Poeltl and Aldridge together. That's a tiny one-game sample, and it's safe to start big against the Paul Millsap–Nikola Jokic duo. All things equal, Gregg Popovich always chooses big over small. But the Spurs have struggled all season with Poeltl and Aldridge together.
• The Spurs outscored opponents by four points per 100 possessions in the regular season when both Aldridge and DeRozan hit the bench. That was better than their margin when both were on the floor, or when either played without the other. Their bench won them a lot of games. But reserves don't get to beat up on bad bench units in the playoffs. Popovich preemptively adjusted by keeping one of DeRozan and Aldridge on the floor the whole of Game 1.
• As an aside, the degree to which DeRozan has stopped shooting 3s is astonishing. He is 0-of-5 from deep since Jan. 1. Total. From 2013-14 through 2016-17, DeRozan shot between 38 and 44 percent on corner 3s every season. Now he's not even standing behind the line when teams leave him open there:
San Antonio cobbled a really good offense with an old-school shot profile. Even so, there are possessions when an open DeRozan corner 3 is better than attacking as the shot clock ticks.
• The Nuggets kept Jokic closer to the paint than usual in defending the pick-and-roll. That makes sense. San Antonio's ball-handlers aren't going to start pulling up like Stephen Curry. Keep everyone in front of you, stay home on shooters, and make the Spurs work for tough 2s.
About that "stay home on shooters" part: Jamal Murray was awful tracking both the ball and his man on the perimeter, and the Spurs appeared to prey on him.
They put Murray in help position on the weak side. They had his man — often White — tiptoe along the arc when Murray peeked inside, and sprint into passes before Murray could find his bearings.
Ninety seconds into the game, Murray turned to watch the ball, spaced out, and lost Forbes for an easy 3-pointer. (Denver's defense out of timeouts was bad; they yielded several easy jumpers, including two more Forbes jumpers.)
• Murray's job gets even harder, and the Spurs more ruthless, when Mason Plumlee replaces Jokic at center. Plumlee ventures further out against the pick-and-roll, forcing Denver's perimeter defenders into longer and more urgent help rotations:
The Spurs could bait those rotations when Plumlee is in the game, and pass their way to some open 3s.
• Plumlee looked good switching onto DeRozan. That was interesting.
• Instead of posting up so often, the Spurs might look to use Aldridge in more pick-and-pops. If Jokic is going to hang near the rim, Aldridge can amble into wide-open looks from his happy place:
Note Millsap creeping off of Gay to wave at Aldridge, and Davis Bertans open behind Gay. Aldridge will see that, and be ready.
Denver could of course counter by nudging Jokic higher on the floor — that has been their scheme all season — but the Spurs might able to pass around him, and into some open 3s.
• The Spurs are abandoning both Will Barton and Gary Harris to help on even run-of-the-mill drives. Those guys are going to have to make shots.
• Oh, yeah, that: Denver went 6-of-28 from 3-point range, including 5-of-26 on looks that were either "open" or "wide open," per NBA.com. The Spurs know they can't stop Jokic in the post, so they are doubling him on almost every touch — turning him into a passer. That is a strategy borne out of weakness, but it's still a strategy — and it worked.
Denver should stay the course. Keep posting Jokic. More of those 3s are going to drop. They might vary their methods of springing Jokic into post position — more duck-ins, more pick-and-rolls that morph into post-ups — but the basic machinery is sound. Denver will get good looks running the offense through Jokic in the post, and from the elbows, with cutters whirring around him.
• They ran zero Jokic-Murray pick-and-rolls in Game 1. Zippo. That was the most effective pick-and-roll combination in the league during the regular season, per Second Spectrum. Use it! (We did see some Jokic-Gary Harris plays, but Harris is not as dynamic with the ball.)
• Murray setting pindowns for Jokic is always good:
That can work to free Jokic for a quick-hitting post-up.
• DeRozan loves bringing the ball up the sideline, and taking a screen from one of San Antonio's other perimeter players — a method of getting a smaller defender switched onto him. That is when DeRozan can eat. Denver conceded a lot of those switches. When they didn't — when they blitzed him instead — DeRozan made the right play.
• Rudy Gay's recovery in San Antonio after tearing his Achilles has been one of the league's best under-the-radar stories. In the right role, in the right place, he is a really good player.
• Thing that makes me nervous: Barton as the only Denver starter on the floor.