James Harden is having a moment, smack-dab inside one of the great individual stretches of professional basketball we've ever seen. After hitting one of the biggest shots of his life last Thursday, he finds himself at the center of the NBA universe.
The impossible game-winning 29-footer over the Golden State Warriors sparked this comment from Rockets general manager Daryl Morey: "You could argue for him as the best offensive player of all time."
In league that has included Michael Jordan, Wilt Chamberlain, Stephen Curry and other unstoppable champions, Harden might not be the best singular scorer, but he is quickly catching Curry as the defining superstar of this era.
His domination is both undeniable and unfamiliar. He has achieved superstar status in unprecedented ways. More than any other player this decade, Harden is disrupting what basketball greatness looks like.
---
The Harden experience
The most important one-on-one advantages used to occur in the low post when bigger, stronger dudes could outmuscle defenders en route to easy interior buckets. But in the post-handcheck, switch-happy NBA, Professor Harden is teaching us that they now occur on the perimeter, when a faster, more nimble ball handler can isolate and outmaneuver a slower defender. Houston's iso-happy offense is Exhibit A.
To watch Rockets basketball in 2019 is to watch one man dribble and dance with his defender at the top of the arc while the eight other players loiter around the edges of the scoring area. It's not breathtaking, but it's brilliant, and conceptually familiar. Isolating mismatches is classic basketball; just ask George Mikan, Bill Russell, Chamberlain, Kareem Abdul-Jabbar or Shaquille O'Neal, who all dominated the league going to work on the low block.
Instead of tossing it down to the big man and letting him go to work, Houston sets a screen to get Harden a mismatch and lets him go to work.
Harden is averaging a whopping 17.7 isos per game, over 7 more than No. 2 DeMar DeRozan, per Second Spectrum tracking. Harden leads the NBA in isolation plays by a massive margin for a good reason. These isolations are easy to create and they're frighteningly effective. So far this season, an average Harden iso yields 1.16 points, which is a staggering value for any half-court action. The Milwaukee Bucks lead the NBA by averaging 0.99 points per non-transition possession.
Harden's isolation efficiency dwarfs that number because he wields numerous dangerous weapons that can quickly turn an iso set into points for his team.
Let's start with his signature shot: the unassisted 3. Across the NBA, over 80 percent of 3s involve an assist. Shooting a ball into a hoop from 24 feet away is very difficult, and it becomes a lot easier when shooters have their feet set and their bodies balanced. Many of the league's best marksmen are catch-and-shoot specialists. Kyle Korver and Klay Thompson are great, but they're codependent — over 90 percent of their triples are assisted. Yet only 15 percent of Harden's are set up by a direct pass.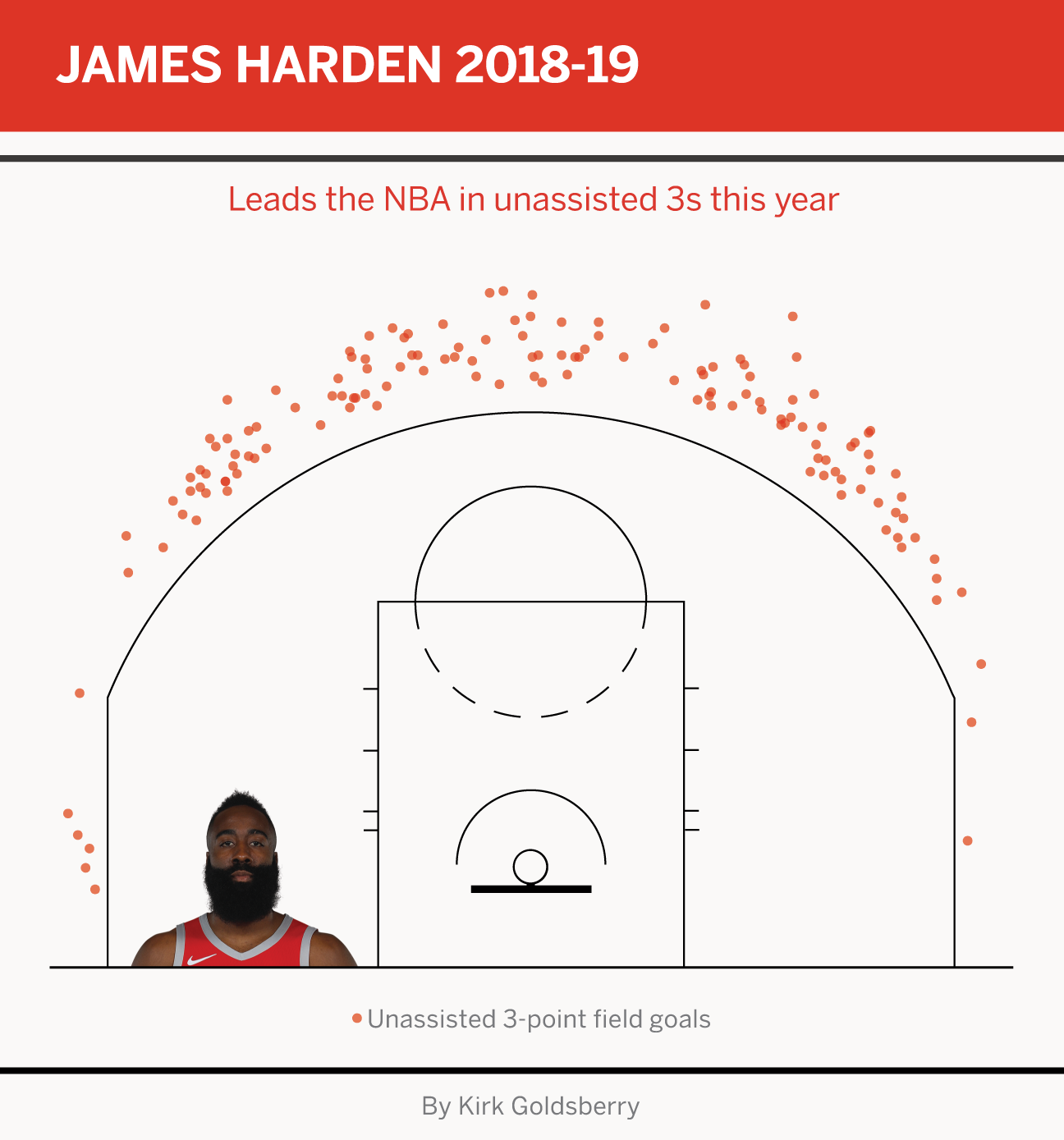 James Harden is disrupting the 3-point shooting space by riding the unassisted triple to brand-new heights. Harden has drained 150 unassisted 3s this season. He's on pace to make 325 by season's end. Last season he set a new NBA record by hitting 196.
Harden the outlier pic.twitter.com/wH0YRfQ9kY

– Kirk Goldsberry (@kirkgoldsberry) January 4, 2019
It all starts with the handle. No player in the NBA has dribbled more than Harden this season, and he leverages his dribble to greater effect than any player in league history. As he dribbles, he's jabbing his momentum in different directions, constantly monitoring his defender's balance. If he catches his man leaning just a bit too far one way, he attacks accordingly. The step-back 3 is reserved for instances when the defender overplays the rim attack. When that happens, Harden simultaneously gathers his dribble, propels his body away from his defender and launches a 3-point attempt.
Harden's love affair with the step-back has made him both the most prolific and most unusual 3-point shooter in the NBA. Consider this: An average NBA 3-pointer is preceded by 1.14 dribbles, per Second Spectrum data. An average Curry 3 is preceded by 1.99 dribbles. An average Harden 3 is preceded by 8.4 dribbles!
This is by design. Just ask Jamal Murray, who endured the full Harden experience Monday night in this iso play:
Harden's step-back is this generation's skyhook. It's our most dominant scorer's most dominant move — and nobody else seems able to do it nearly as well. Harden has made three times as many as second-place Luka Doncic, per Second Spectrum.
But Harden's crazy volume and efficiency on these unassisted 3s is only made possible by his all-world ability to attack the teeth of the defense. Harden the rim-attacker is also a ferocious beast, and if defenders dare to overplay the step-back, they'll find out the hard way that Harden is ready and able to blow past them.
Once Harden attacks the 2-point area, one of three things is bound to happen:
1. A layup or dunk
He might not be the most explosive scorer in the league, but Harden remains one of the most versatile finishers in the NBA.
2. A shooting foul
Harden's shot chart paints a deceptive picture of his interior prowess.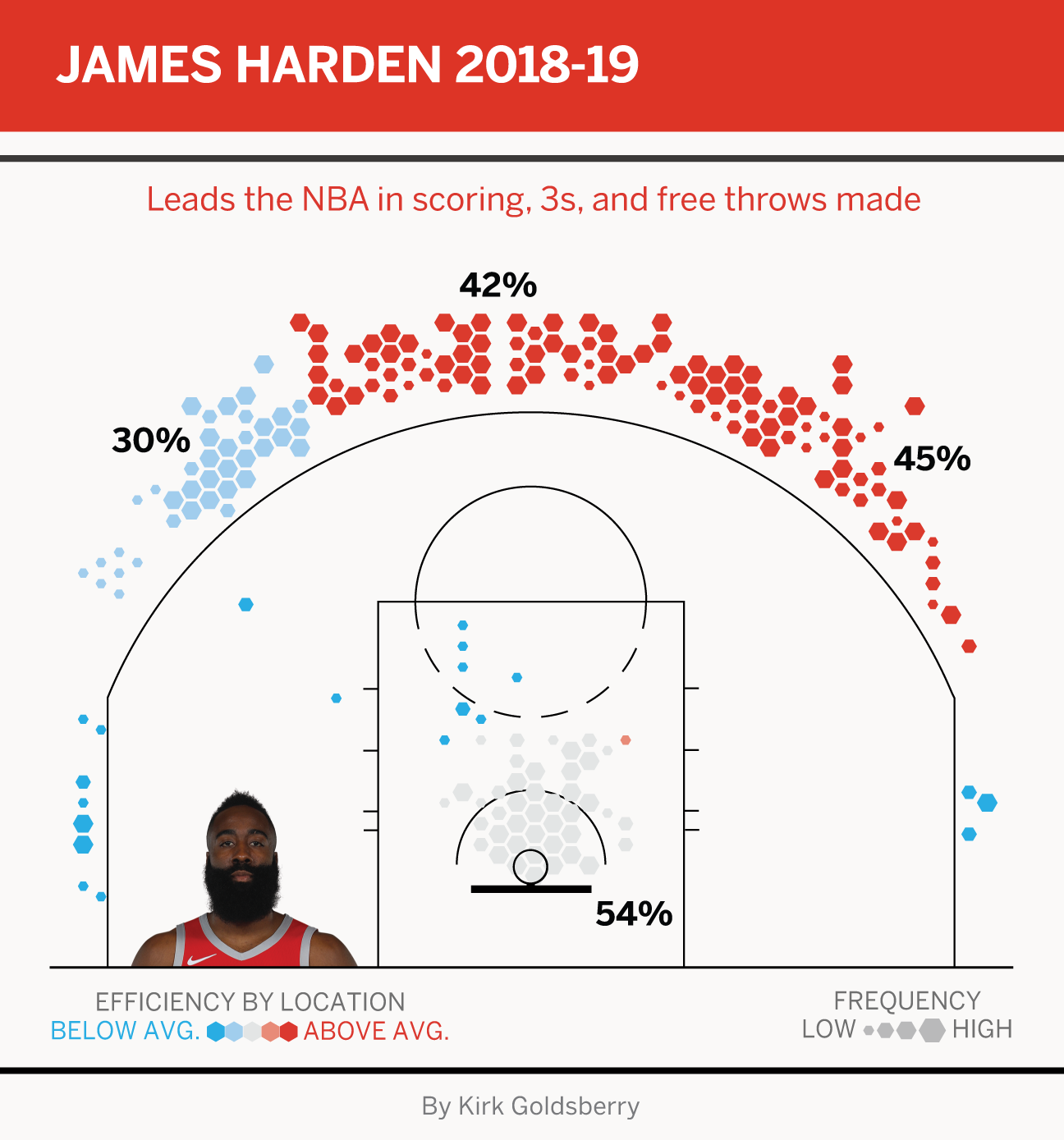 Yes, he converts his paint shots at only average rates, but his foul-drawing in that zone is elite. He's led the league in free throws every season since 2014-15, and he's on pace to do it again. He'd rather draw a foul than attempt a floater or a pull-up for a good reason: It's a much better outcome.
Maybe the most criticized aspect of Harden's game is his quest for whistles. For many of us, free throws are anticlimactic necessities that keep defenders honest, but for Harden they're just more juicy fruits of efficiency. And he's right.
A pair of Harden free throws is worth about 1.7 points, while an average NBA possession is worth 1.1. That's a ridiculous margin, and the Rockets know that any action that can elevate the value of a possession that much is a great technique. Don't hate the player, hate the game.
After all, it's the NBA rulebase and officiating emphases that created the margin, and they liberally award two- and three-shot shooting fouls to any player smart enough to create contact with defenders. Like it or not, trips to the line are among the best outcomes in the league. It shouldn't be surprising that Harden exploits this with his winding, outstretched arms. It's a wonder more players don't exhibit identical tactics.
3. An assist
If teams dare try to help on Harden, they quickly learn that's foolish, too. He's among the most gifted passers in the game.
The Rockets not only decorate the perimeter with catch-and-shoot specialists who are more than ready to capitalize on Harden's kickouts, but Clint Capela has emerged as one of the best rim-running bigs in the NBA, which keeps defending big men from cheating too much. Harden-to-Capela is the most prolific (and second-most efficient) passer-to-shooter connection in the league, according to Second Spectrum data.
James Harden throws a sick between-the-legs pass to Clint Capela, who finishes through contact for an and-1 bucket.
---
Our bearded prophet
The James Harden Experience is a novel motif, but not everyone is smitten with the Rockets' blend of heroball and moneyball. Harden's offensive brilliance manifests in his own isolationist aesthetic that thrives by exploiting the kinds of efficiency loopholes glorified by "Moneyball" values, but it's also antithetical to beautiful ball-movement tactics that have guided the other great teams of our time. Whereas the Spurs and Warriors can be characterized by diverse play, off-ball action and ball movement, some critics deride Harden's approach as gimmicky and monotonous.
As a result, Harden's increasing domination, while undeniable, is also becoming a polarizing referendum on the future of pro basketball. There's no question Harden is great. There's also no question that he's a harbinger of future hoops. (Just look at Doncic or Kevin Porter Jr.) Is that a good thing?
Love him or hate him, Harden is the most fascinating player in the world right now. And if NBA strategy is largely about putting great players in great situations, Morey and head coach Mike D'Antoni deserve loads of credit here. Morey has surrounded Harden with shooters and lob threats. D'Antoni has engineered simple but brutally effective sets that give his star the most chances to shine. In a copycat league, the Rockets look and feel different, at least for now.
If you dislike the Harden aesthetic, your problems aren't with Morey or Harden himself, they're with the league office and the rules that don't just tolerate his quirky life hacks on the court but tacitly encourage this. You can't throw a rock on the NBA internet without hitting a user complaining about the look and feel of Harden's offense. But his game is our game. It's Adam Silver's game. Hate the game, not the player.
Consider the fundamental efficiencies of Harden's techniques. The average NBA half-court possession is worth less than 1 point, but everything Harden does is worth more. His step-back goes in 39 percent of the time, which translates to 1.18 points. A 2-shot shooting foul is worth 1.70 points. A 3-point shooting foul is worth 2.55 points.
Harden shines a mirror back on the values of a league that claims to feature the most team-oriented games on the planet, and reveals a few unsightly blemishes.
With the NBA's mania for efficiency on the court, we've tempted this exact approach to the game for years. James Harden is just the first superstar to cash in. He won't be the last. Harden might not be the superstar we love the most, but he's certainly the one we deserve.