Welcome back my friends to the show that never ends. We're so glad you could attend … come inside, come inside.
The NBA is back this month, and that means NBA futures are back. As we did last year, I've written the case for the over and under for every team's win total and ranked whichever one I'm going with based on my confidence in the bet. Those confidence levels (0 to 10) comprised the rankings below.
---
All odds as of Friday. Check out PointsBet, where Action Network users get an exclusive 200% deposit match (deposit $50, bet with $150).
---
A couple of final notes for this year's edition:
Instead of using just Westgate Las Vegas SuperBook odds, I took a sample from multiple books, including PointsBet, FanDuel, DraftKings, Caesars and Circa Sports, along with Westgate. You may not have access to all these books and numbers, so keep that in mind. The confidence ranking is a good indicator of how closely you should monitor and how important it is you shop for the best number.  (Note: Always shop for the best number.)
For reference, last year I went 20-9-1 on win totals. Not great, but good enough. Notably, as I reviewed my wins and losses over the summer, I noticed my most confident picks were not my best. I've tried to learn some lessons (like not having the highest win total teams as most confident), but that's maybe something to remember.
I evaluated historical data, rosters, performance last season both in actual wins and Pythagorean expected wins based on statistical performance

, and all the other factors I could.
You'll find links to each individual team below. Let's get cracking with the rankings.
Go directly to your team: ATL | BOS | BKN | CHA | CHI | CLE | DAL | DEN | DET | GSW | HOU | IND | LAC | LAL | MEM | MIA | MIL | MIN | NOP | NYK | OKC | ORL | PHI | PHX | POR | SAC | SAS | TOR | UTA | WAS
Fear Is a Good Thing
30. Indiana Pacers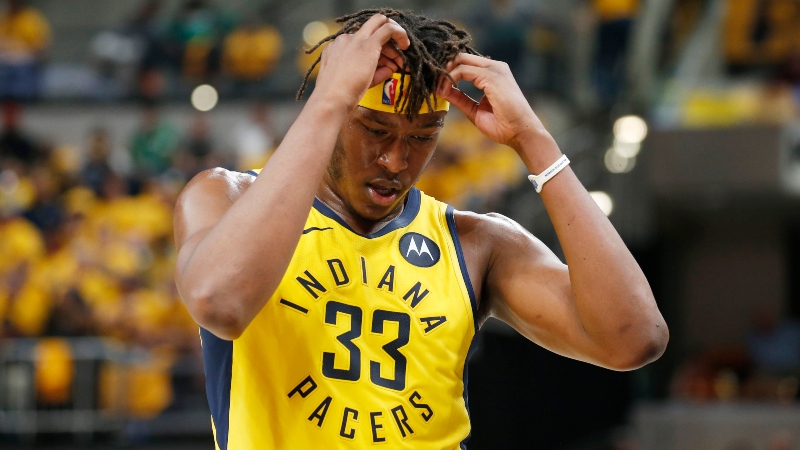 The pick: Under 47.5
Confidence: 1 out of 10
The Case for the Under (47.5, DraftKings): Oladipo, Oladipo, Oladipo.
This team is without its best player, Victor Oladipo, to start the year and for several months. There's no timeline for his return, and all of the injury information on his ruptured quad is the stuff of nightmares.
He's supposed to return in December or January. But if he comes back and isn't right? If he's not strong enough yet? He's back out again, and that could be the year. You don't want to hold an over bet on the Pacers, even with the positive reasons listed above, with the chance that Oladipo doesn't come back this year — or comes back significantly less than 100 percent — even if it's remote.
And those missing players? Thaddeus Young, one of the best plus-minus guys in the league who opened things for Myles Turner and Domantas Sabonis, who haven't played together much. Bojan Bogdanovic, who was ineffective in the playoffs but was close to a 50-40-90 shooter before Oladipo's injury and carried them to the playoffs late. Can Malcolm Brogdon be that guy?
Speak of the devil, Brogdon comes with a host of foot injury concerns that spook a lot of front office folks. Sabonis took a step backwards last summer. Jeremy Lamb and T.J. Warren came from the Hornets and Suns, respectively: Do you want to trust escapees from those teams to win games?
Their point guard rotation is Brogdon, T.J. McConnell and Aaron Holiday (who I admittedly love and think will be really good). They play in the toughest division in the East and got walloped last year by the Sixers, whom they play four times.
The margin is too close here; they probably don't win fewer than 43, but they are also definitely not a 50-win team without Oladipo.
The Case for the Over (46.5, PointsBet): The Pacers have gone over their win total in two of the three years under head coach Nate McMillan, including the past two. Despite an offense that doesn't accentuate the things that typically translate to success (pace and 3-pointers), the Pacers still finished top-20 last season, even without Victor Oladipo the back half of the year … Read more here
29. Miami Heat